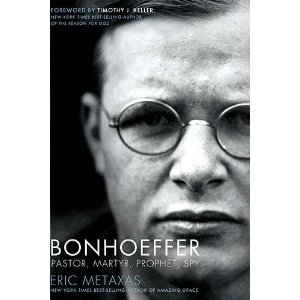 Bonhoeffer: A Biography
is a hefty six hundred page read. However, when you close the book, you know Bonhoeffer in a way you've never quite understood him before.
I saw this book coming down the pike from Thomas Nelson and I knew it would be one that I would absolutely want to read. Despite its length, I believed it would paint the most thorough picture of Bonhoeffer that I've come into contact with. I read Bonhoeffer's work, Life Together
, listened to lectures about the man and watched a biographical movie about it. I was aware of the basics of what Bonhoeffer is sometimes though most famous for – being part of a conspiracy to assassinate Adolf Hitler.
As history has shown, the assassination attempt(s) were unsuccessful. As history has also shown, Dietrich Bonhoeffer was a surprising, honorable, faith-conscious and rather remarkable man. What I've never quite understood is how Pastor Bonhoeffer, as he was known in Germany, could have come to a decision wherein his conscience permitted him to be part of a group of men who had intent to kill. It is hard to reconcile how a Christian could come to the decision to take the life of another – even if the other IS Adolf Hitler (a man I have zero admiration for.) Eric Metaxas (author of Amazing Grace: William Wilberforce and the Heroic Campaign to End Slavery) presents a work wherein I could finally see Bonhoeffer's thought processes. Metaxas explains Bonhoeffer's family, his childhood, his upbringing, the culture in which he lived, the theologians he studied under, the politicians he rubbed elbows with and the people who made up his world in a way that helps make sense of something that has always raised question marks in my own head.
Reading this biography was both insightful and enlightening. I admire Bonhoeffer. I am frustrated by him. He thinks too much and doesn't seem to connect with the world and society. He doesn't make sense! At the same time, he makes all the sense in the world. He is admirable. He is annoying. He is – human. Metaxas paints the picture well. I walked away from this book admiring Bonhoeffer's ideals and understanding what drove him to make the decisions that he did – whether or not I happened to agree with them. Bonhoeffer is a mysterious man and, as Metaxas points out, was misunderstood even in his own time. When most of his peers were of the mindset that that they try to rock the boat as little as possible, Bonhoeffer seemed always to be out in the midst of the stormy seas, purposefully rocking the boat! He made his friends nervous and his family concerned for his safety. However, despite the fact that not everyone in his immediate circle of life always agreed with him, they all unanimously seemed to be of the opinion that Bonhoeffer was a credible and amazing brilliant individual, worthy of honor and they would do whatever they could to protect him and keep him safe.
What is clear, from reading this biography, is that Bonhoeffer was complex in both thought and personality. He's probably one of the most interesting men that I've ever read about. So much of what he stood for and believed in, I agree with my whole heart. I loved his bravery and devotion to doing what he felt that he must do. I admire that. I couldn't help but think that the choices he had to make were so much easier because the world – during WWII – seemed so black and white. Hitler was undeniably evil to the core and standing up to him took a great deal of bravery that would be hard to find in the world today. Yet at the same time, our own generation suffers greatly from misconceptions and untruths and reading this biography made me wonder how many times I'm ready to give in and 'tow the party line' instead of standing up and speaking that which I know to be true. I'm quite cowardly on too frequent of a basis and reading this book inspired me to really know what I believe and stand ready to explain and defend it when I'm called upon to do so. I think that standing for truth looks different for various people at various times in their life but one thing is certain – Bonhoeffer was born at a specific point in history to stand for particular truths. I think, on the whole, he did so admirably.
I was very impressed by Metaxas' writing style and the length is only a problem if you have a limited amount of time to make it through a book. Give yourself some time and I think you'll find Bonhoeffer: A Biography to be historically accurate, insightful and thought-provoking. I originally meant to spend a week reading it, but that time frame was expanded somewhat because of the depth of detail that Metaxas goes into when laying out Bonhoeffer's life. He is on point, completely on target but I would find myself finishing a chapter and staring off into space for awhile. Why? Because this biography provides so much to think about that it was both fantastic and took some time and effort. In my book (pardon the pun) that means that this book was most excellent and I'm going to give it the five stars (and more) it deserves!
I am delighted to inform you that Thomas Nelson Publishers has offered a copy of Bonhoeffer: A Biography
to one of you. To enter? Simply leave a comment below. This contest is open to U.S. Residents only. I hope you will seek this book out to enjoy it and to learn from it. Sure, it's hefty – but oh so profitable!
Check out our current giveaways. Subscribe to our feed. Follow us @5M4B on Twitter.
Carrie comes by her book obsession honestly, having descended from a long line of bibliophiles. She blogs about books regularly at Reading to Know and Reading My Library.