Picture a group of men sitting at a cafe table in Paris in the second half of the 1800's, smoking, laughing and discussing their desires to someday get their work noticed by the art world, and it could be historically accurate to label those men as Cezanne, Degas, Renoir, Pissarro, Manet, Bazille, and my personal favorite, Monet. Before their paintings spurred the Impressionism movement, they were the very definition of "struggling artists," living in poverty and desperate for recognition.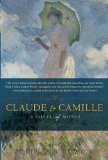 Stephanie Cowell's new novel, Claude & Camille, vividly brings this world to life, weaving history with dramatization, and giving readers an intimate perspective on the personal life of one of history's most beloved artists. Monet featured Camille Doncieux as the subject of several paintings in his early years, notably Camille (The Woman in the Green Dress) and Women in the Garden, and the story of their relationship, begun and sustained without family support, swept me away. I found the writing beautiful, with a palpable intensity of the pressure Monet and his contemporary artists undoubtedly felt as they struggled to express themselves through their art, while barely able to support themselves or their families. The love portrayed between Claude and Camille is complicated and often fraught with worry about their growing debt and inconsistent housing, a life of constant change and insecurity. They loved each other, but they also failed each other at times, as well, as people often do.
Just as much of the art of this time can be described in terms of its sensuality, Monet's intimate life is depicted in the novel through some scenes that are more detailed than some readers may be comfortable with. Personally, I didn't find the descriptions to be overwhelming, but fitting with the lifestyle and time period in which Monet lived.
As much as I enjoyed the central story of Monet's relationship with Camille, I anxiously awaited each scene that featured Monet's friendships and interactions with the other artists who would become historical figures in the Impressionism movement, and since I've always felt a particular fondness for this genre, I was filled with amazement to imagine these geniuses and their time together.
Fans of historical fiction, and especially readers who hold a special place in their hearts for the artwork of Claude Monet, will want to get a copy of Claude & Camille in their hands. Their life's story, full of love, through struggles and successes, makes for a wonderful read and what I anticipate will be a successful novel.
I'm happy to share the wonder of Monet's life in this piece of historical fiction in this week's giveaway. Please leave a comment here to be entered (U.S. residents only, please), and three readers will receive a copy of Claude & Camille. We'll announce the winners in April 7th's giveaway review post.
Check out our current giveaways. Subscribe to our feed. Follow us @5M4B on Twitter.
Dawn desperately wants to believe that her soul lived in some form in Paris in the late 1800's. The journal that she would have inevitably kept would have been the precursor to the blog she writes in this life at my thoughts exactly.
This review, and others from the week, are linked to Semicolon's Saturday Review of Books. Check it out!