March and April bring thoughts of jelly beans and creme-filled chocolate eggs (or is that just me)? Bunnies, chicks, lambs, pastel colors and verdant green fill our minds as well.
From the jacket flap:

How can a small sheep become a big orange balloon?

With a lot of imagination and determination anything is possible.
Mathilda and the Orange Balloon couldn't evoke Spring more if it tried. This delightful book by Randall de Seve features Mathilda the sheep, whose world is small, but whose imagination is very big. Jen Corace's illustrations also give it that fresh Spring feel. The sweet drawings pop on a white background.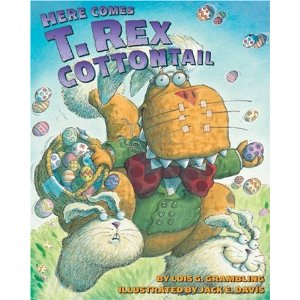 What happens when Peter Cottontail gets a cold the day before Easter? His friend T-Rex steps in, that's what. When he breaks the eggs that he picks up from the Easter Bunny's house, his other dino friends Iguanodon, Stegasaurus, and Diplodocus help out by collecting eggs from some unlikely sources.
Here Comes T. Rex Cottontail by Lois Grambling is a clever story about helping each other and caring for each other. The drawings by Jack E. Davis are exaggerated and larger-than-life. They aren't my favorite type of illustrations, but my 5 1/2 year old son gravitated to this book right away. The story is creative and funny. I think that the drawings and the larger amount of text on a page make this book perfect for older picture-book readers, especially dinosaur-lovers.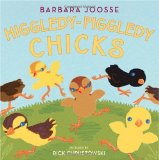 Barbara Joosse's Higgledy-Piggledy Chicks features a Banty hen mama who watches over her newly-hatched chicks. Great sound words such as hussshhhhh, zip, bucka-buk, kak and kuk, and of course higgedly-piggledy make this a great read-aloud. The repetitious counting of the baby chicks as the mama warns them and keeps track of them all is a great learning tool.
Higgledy-Piggledy Chicks is targeted to preschoolers, although the information at the back of the book after the story about how little chicks grow did appeal to my scientifically-minded Kindergartner. The illustrator Rick Chrustowksi illuminates the readers about his real-life hobby farm and baby chicks that inspired his drawings, and specifically his first attempt to use collage (one of my very favorite mediums for picture-book art).

After a glorious taste of warm sunshine the last few weeks, Jennifer Donovan is definitely ready for Spring. With the recent return of cold, gloomy weather she'll have to experience Spring in the pages. She blogs about her life in Connecticut at Snapshot.