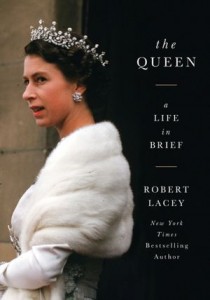 My reading theme for the month of July seems to be entirely focused on England, the British way of life, or on English authors. That's just the way it played out. For one thing, I'm currently focused on hosting the Chronicles of Narnia Reading Challenge (jump in any time during July!) and that sort of set the pace and the tone for the rest of the month. On that note, I accepted the following book for review.
The Queen is celebrating her Diamond Jubilee and author Robert Lacey has released a short 157-page book on the life of Queen Elizabeth II. He has produced two other works on the life of the Queen – Majesty and Monarch , both of which take a more in-depth look at this great personage. (Actually, Lacey has written quite a bit about the royal family in general, including a book on the Princess Diana.) As he writes in the introduction of The Queen: A Life in Brief, this book is meant to occupy "one pleasant afternoon's reading." It is a condensed version of his other works, a mere six easy chapters in length and is sprinkled liberally with photographs and visuals to keep those pages turning!
Personally, I'm a fan of history and I love reading biographies. The idea of reading his other books holds great appeal to me. His writing style is very engaging and I think he has found a wonderful balance between simply reporting facts and making his point. I can tell that he very much likes Queen Elizabeth II and finds her behavior and responses to life's situations both understandable and admirable. As most of us are aware, she has not had an easy reign these past  few decades, thanks to her children and their romantic flings and failures. Robert Lacey takes care not to play on his reader's emotions, attempting to prompt them into a certain point of view regarding these relationships. (I left this book with a vague idea of how he feels towards the Queen's offspring, but he didn't spell it out in minute detail. Which is just as well because I already have a formed opinion to the minutest of details.) Instead he focuses on the Queen's reactions and responses (however delayed they might have looked in the public's eyes) to try to portray who the Queen truly is as a person. He helps to explain her thought processes a bit which I found to be both enlightening and fascinating.
Obviously, when we Americans think of the Royal Family we tend to think about a lot of pomp and circumstance. I remember watching Charles' and Diana's wedding (on VHS, years after it took place, mind you) and the Princess's funeral procession. Of course I remember William and Catherine's grand and glorious wedding and have been completely charmed. (Well, maybe not completely. But quite charmed, nevertheless.) The present day audience has been primarily focused on the romances of the royals and while this has defined a portion of the Queen's reign, it is just a slice of the pie but does not present the whole of who the Queen is, what has happened during her reign, and how she has grown as a woman and a monarch.
I absolutely loved The Queen: A Life in Brief because it is a short but comprehensive overview of her entire life. He describes the nursery where she spent her beginning years and moved on from there. We see how she came of age during World War II, came to grips with the idea of television sets (I jest, sort of) and adapted to a fast-paced and ever changing world. It is good to read history and be informed by it so that we can understand not only where we've come from but gain wisdom to get to where we'd like to go. I know that not many people are going to want to sit down with a long biography (of any sort) and so I like this brief work because it instructs and informs and helps to broaden our perspective of who this woman is who has lived a quite the amazing life! (I would heartily recommend this title to high school students. It is extremely easy to read and comprehend.)
I heartily recommend this book and, if I may, I think I'm going to list it as a 5-star read (check out our others too!), not because I found it thoroughly satisfying as a book, but because I think it's a great tool to educate ourselves about a person who has made a marked difference in our world. Personally, it made me want to read more about her so I consider it well-done! I heartily recommend it.
Thanks to Harper Perennial for sending a copy of this book my way in exchange for my honest opinion.
Carrie harps about the importance of learning history quite frequently over at Reading to Know. The non-dull kind of history, that is. (Which is all of it, really!)