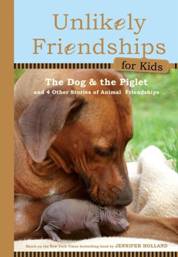 It's fun to respond to an email pitch from a publisher to request a book that they are offering. It's sometimes even more fun to open up random shipments  that come to me. That's how I stumbled across Workman Publishing's Unlikely Friendships for Kids series.
I loved them when I first laid eyes on them. They are nice hardcover books, they are a cute gift-book size (smaller than 5 x 7), perfect for displaying on a bedside or end table or for little hands to carry around, and they have pictures of adorable animals. Cute, adorable, even precious — these are the words that I must use to describe them.
I read through the first two books in the series The Monkey & the Dove: And Four Other Stories of Animal Friendships and The Dog & The Piglet: And Four Other Stories of Animal Friendships and then left them out on the coffee table hoping that my 8-year-old son would pick them up and be charmed by the cuteness. He did read one or two of the stories at my request, but he wasn't hooked. I was a little disappointed and wondered if these books would be as appealing to the intended age as they were to me.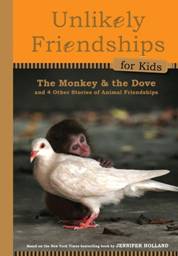 But then last week my house was filled with little girls when my sister-in-law brought my nieces to visit. We had a stack of hand-me-down books and girly books that didn't appeal to Kyle to give to my 7-year-old niece, and I put other books in the hands of my 3 1/2 year old niece when she was looking for some quiet downtime. The book that she loved most, carried around with her, and asked if she could keep was the "animal book."
A young independent reader could read them on his or her own, but younger animal-lovers will likely "read" them to themselves as my niece did, or ask for them at bedtime (which she also did).
Each book has the same introduction where the author, science writer Jennifer S. Holland, tells about how she began writing about unusual animal friendships (when she was SCUBA diving and noticed 2 different species of fish swimming together., and then five different stories about animals who pair up in an unlikely way). She decided to try to discover other stories. And she did.
They are all stories of hope, because one of the animals is generally in dire straits and is helped or cheered or protected by his new animal friends. Without preaching, I'm sure that kids will get the message that they matter and their kindness could help someone else.
One of my favorite stories was "The Hippopotamus and the Goat," because it is absurd (but still cute — always cute). Someone — someone who has obviously never been to a zoo — decided to keep a hippo in the house!! That was of course fine while the hippo was the size of a dog, but of course he grew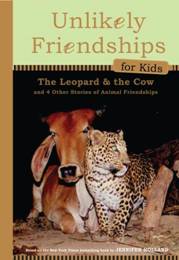 and had to be moved, which is where he became friends with the goat. There's more to the story, but I'll let you find out for yourself.
I am happy that one of you will win all 3 books in the Unlikely Friendships for Kids series: the two listed above plus The Leopard & the Cow: And Four Other Stories of Animal Friendships, so you can enjoy the strange but true tales yourself. Just leave a comment if you'd like to win, and Workman Publishing will send out all 3 books. We will announce the winner here in our regular book giveaway column on 7/25.
Don't miss a thing: Check out our current giveaways. Subscribe to our feed. Follow us @5M4B on Twitter or on Facebook.
Jennifer Donovan enjoys sharing books with little ones and was happy that some came to stay. She blogs at Snapshot.