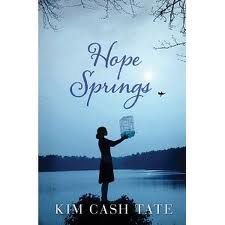 In her fourth novel, inspirational author Kimberly Cash Tate invites us along on a journey to Hope Springs. For the Sanders family, this small, quiet town is home. Those who don't live nearby make the trip back for family reunions as often as they can, and as, the book opens, a number of them are on their way home to celebrate Christmas together and check on their matriarch, Grandma Geri.
Unfortunately, the rumors that Grandma Geri isn't doing so well turn out to be true, and cousins Janelle and Stephanie decide to stay in town for a while to take care of her. For Stephanie, who has recently been feeling challenged to serve others more, this is the perfect opportunity to learn how to give of herself; and for Janelle, who has been feeling adrift since her husband passed away, leaving her with two small children, being back home seems to anchor her again. It also throws her into the path of Kory, an old friend whose wife has left him and who is now the pastor of New Jerusalem, where the family attends church.
Into this mix come Todd and Becca Dillon, in Hope Springs for Todd's father's funeral. Jim Dillon was a good friend and neighbor to the Sanders' family as well as the pastor at Calvary Church until his recent death. Although the funeral is well-attended by members of both congregations, the churches have long been divided along racial lines. As Todd is called to take over the pastorate at Calvary, he and Kory begin thinking of ways they can encourage more connection between their two churches.
At the risk of using too many religious catchphrases, what I liked most about this book was how the central characters sought the Lord's leading for their lives and were willing to make changes in how they thought and acted in response. They were encouraging to one another and held themselves accountable to each other for the growth that was taking place in their lives. It was a wonderful picture of how the Christian life should be.
I also thought Ms. Cash Tate did a good job of portraying the racial divide between the churches in the town and showing how they chose to move towards unity as brothers and sisters in Christ. In researching her background, I found that she has also written a memoir called More Christian than African-American, which I am very interested to read.
All in all, Hope Springs is an engaging story with a lot of depth which I would highly recommend. I believe it would be a great book to foster discussion, not only about the individual choices the characters make, but also concerning the larger issue of unity among Christians from different races.
We have a copy to give away to one of you (U.S. and Canadian shipping addresses). Just leave a comment if you'd like to win, and we'll announce the winner in our book giveaway column on July 11. This giveaway is now closed.
Check out our current giveaways. Subscribe to our feed or video reviews on YouTube. Follow us @5M4B on Twitter or on Facebook.
Trish enjoys sinking into a good story and loves it even more when it inspires her faith. When she isn't reading, she is taking care of her son and blogging at In So Many Words.
More Inspirational Titles To Check Out