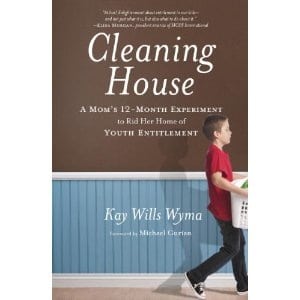 As a book reviewer, I read a lot of books. A lot of books — like 10 a month. There are a handful of books that I read each year that I love so much that I buy them for friends and family and urge all with whom I come in contact to read. Cleaning House: A Mom's Twelve-Month Experiment to Rid Her Home of Youth Entitlement by Kay Wills Wyma is one of those books for 2012.
I have two kids: a daughter who is starting high school in the fall and an 8-year-old son. They probably don't do as many chores as some kids, but they probably do more than others. . . .
Click through to read my full (glowing!!) review of Cleaning House at 5 Minutes for Mom, and enter to win your own copy while you're there.
You can also read about my attempt to put something I learned into action with my daughter at my own blog, Snapshot: This isn't too much to ask