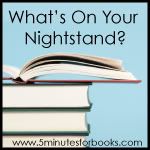 I love the 4th Tuesday of each month when so many of you join us here to share what you'd like to read this month, or what you just finished reading. We're happy to see each link that pops up, whether you show a picture of your big pile of books on your nightstand (or beside the bed or wherever it is) or if you tell about a great used bookstore shopping trip or a visit to the library that has given you lots to read.
I hope you enjoy it, too — both writing up your posts and visiting around to add to that never-ending to-be-read list, or to find some other book-loving blog friends.
If this is your first time participating, put "first time" beside your name when you link up, so that we can give you an extra-warm welcome.
Are your kids reading more this summer? Or perhaps you're looking for ideas to keep them reading? We'd love for you to join us in our monthly Kids' Picks carnival on the 2nd Tuesday of each month. The next one will be July 10. Come back and join us!
Check out our current giveaways. Subscribe to our feed. Follow us @5M4B on Twitter or on Facebook or YouTube.