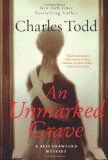 WWI-era nurse and sometime sleuth Bess Crawford is working in France, at an aid station near the front lines. It's now 1918 and the Spanish Influenza has decimated soldier and medical personnel alike, and the bodies are piling up in a shed near the aid station. When an orderly asks Bess to come and see something, she has no inkling, as she follows him, that she is about to start on a train of events that will put in danger not only her own life but also her nearest and dearest.
In the shed, Bess discovers a body that doesn't belong there—the man wasn't killed by gunfire or the flu. On top of that, she recognizes him—he served in her father's regiment, and is a family friend. Before she can talk to anyone about it, Bess herself is stricken with the flu, and her survival is touch and go for a while. She then finds herself having to make a slow recovery, all the while searching for the truth behind the murder. In the meantime, the orderly who showed her body is found hanged, an apparent suicide. Before she's finished, Bess will have moved back and forth from France to England, risking her life and reputation in her search for the killer.
An Unmarked Grave
is the latest book in the Bess Crawford series, and it continues the high standards set in the first 3. One of the things I so enjoy about this series is that although they are murder mysteries and somewhat light reads, they look at how the war affected the lives of millions—not just soldiers and nurses, but those at home, civilians in both France and England, orphans and widows and bereft parents. The series also looks at the toll taken on men by the fighting, as well as looking at the courage shown by men who were determined to return to the Front even after injury has side-lined them for a while. They plumb both depths and heights of the human condition. On top of that, the descriptions are well-done, from the times of quiet on the Front, to the rutted roads and ruined French countryside, to the frequent amputations. A description of a Welsh farm with fields left fallow because all 7 sons have gone to war was especially moving.
In short, it's no surprise that I loved An Unmarked Grave
. I highly recommend this series to anyone who enjoys mysteries, historical fiction, or simply a good read.
My colleague Jennifer read An Unmarked Grave
as her first Bess Crawford book. Here are her thoughts on it:
I knew Elizabeth had been reading along, and she had mentioned it as an antidote to Downton Abbey withdrawals, and I did enjoy learning more about that period of history, so when I received an unsolicited review copy, I decided to join Elizabeth. This book goes along perfectly with the 2nd season, actually, since they are experiencing the hazards of influenza as well as the war.
This is the fourth in the series, but the first I've read, and I wondered how much I'd feel that I missed. It wasn't a problem at all. At first I wondered why some men were sort of flirting with "Sister Crawford," but later I realized she was not a nun (and then Elizabeth confirmed that Nursing Sisters were a special designation of nurses — and that her mom was actually one!). I also was a little unsure about who Simon was when he was first mentioned. I assumed there was background in other books, and in fact 50 pages later, he was revealed as a dear family friend with a little background.
In some of Elizabeth's earlier reviews (A Bitter Truth and A Duty to the Dead and an Impartial Witness) she mentioned that one of the things she liked was that the characters — even relatively minor ones — are fully fleshed out. I agree with her on that. The book isn't long and overly wordy, and Charles Todd doesn't bog down the reader with unnecessary plot lines, but as Bess Crawford visits those involved in the mysterious man's death and the staged suicide, you do get to know and care about them.
This book marks the end of the Bess Crawford Read-Along at Book Club Girl. I've (Elizabeth)  thoroughly enjoyed this! Did you participate, or have you read any of the series? If so, let me know in comments. I'd love to hear your thoughts!
I (Jennifer) wonder what happens when you start a series in progress. Do you immediately go back and read the first books? Leave a comment and tell me.