A few of you said you'd come along with me on the Bess Crawford read-along, hosted at Book Club Girl.
Bess Crawford, a WWI-era nurse/amateur detective, is the subject of a series written by the mother-son team Charles Todd. (Let me just pause to say, again, how intriguing I find this idea. They are the first mother-son writing team I have ever heard of. Is this as unusual as I think it is? Have you heard of such a thing before? Also, in my minor and totally healthy goal of keeping my kids close as they age, I have mentioned this to Elliot, my 16 year-old, who loves history and is a pretty decent writer himself (he's written a couple of reviews for this site). So far, he's not seeing working closely with his mum as quite the fulfillment of his life's dreams, but I'm working on him. Is going into his room when he's asleep and murmuring suggestions in his ear a good idea, do you think?)
Ok; back to the books! So far I've read the first two and THOROUGHLY enjoyed them—so much I had to go into all caps for a minute there. I thought I'd sum up the first two today to whet your appetite if you haven't read them yet. For more information (and total spoilers), read the discussion of Duty to the Dead. The discussion for An Impartial Witness
will be April 30. There's still time to join in!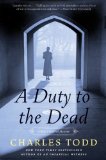 A Duty to the Dead

The book opens with Bess on board the HMS Brittanic, a hospital ship that transported the wounded and dying from the Middle East to the United Kingdom. The ship is on its way back when it's struck and sunk by an enemy mine. Bess is thrown into the side of the ship in the initial impact and breaks her arm badly.
When eventually everyone is rescued and things are settled, she's sent back to England on leave. During this time, she fulfills her "duty to the dead"–a dying soldier named Arthur Graham asks her to deliver a message to his brother Jonathon. She does so, only to find herself drawn into a web of lies and deceits and complications. She's hardheaded, practical and kind, and doesn't give up easily. As a result, she ends up finding connections between a string of 6 deaths separated by years, and freeing a young man from an unjust imprisonment in an asylum.
I loved Bess' character immediately; in fact, I recognized it—the British nursing sister, capable, strong, dependable. My own mother was very much this way, although she came on the scene much later, of course (not to mention in real life rather than in a novel), and I have known others. I will mention that British nurses were called sisters and I used to know why but I've forgotten.
Although I loved this book and instantly wanted to read the next 3, I will admit that I had a couple of issues with the plot. I thought it was unnecessarily complicated as we tried to sort out which brother, and that the age of the first crime was a little young. Like I said, this didn't spoil it for me, but if I were rating this book, it would lower the rating slightly. The quality of writing kept my enjoyment high.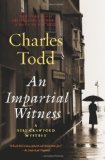 An Impartial Witness

I think this second book was better than the first. WWI is still raging. Bess is now in France, and she escorts some wounded to a convalescence home (rather like Downton Abbey in Season 2). One man in particular is badly burned, and the only thing keeping him clinging to life is his love for his wife. He has her picture pinned to his uniform, so Bess sees it every day. On her way back up to London, she sees the wife bidding good-bye to another man in a train station, a man with whom she's obviously having a very intense conversation. That evening, her murdered body is fished up out of the Thames.
Bess learns of this from a newspaper that she sees a couple of weeks later, and is soon in on the hunt for the killer. I will mention that I had a suspicion early on of who it might be, but I wasn't at all sure. I loved this one! I read it while traveling, and it was perfect.
Are you reading along? If not, why not? If so, are you enjoying these books as much as I am? Also, seriously, do you think Elliot and I can make this thing work? Discuss in comments.