Bess Crawford, a WWI-era nurse who's constantly getting herself involved in murder mysteries, is the creation of mother-son writing team Charles Todd. Their third book in the series, A Bitter Truth
, was just released in paperback. Next month the fourth, An Unmarked Grave
, will come out. I'm participating in the Bess Crawford Read-Along with Book Club Girl. This means I've read a Bess Crawford every month for the last 3 months (see my review of the first two HERE). While I'm looking forward to An Unmarked Grave
in June, I'm already beginning to worry about July, which will be Bess-less. I like Bess, and I'm going to miss her. I'm hoping Charles Todd will get book 5 out by, oh, August or so. I don't mind typos.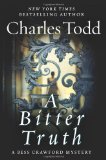 A Bitter Truth
opens when Bess is returning to her London home on a much-anticipated leave from the front in France, where she is a nursing sister tending the wounded. It's December and bitterly cold, and when Bess discovers a woman shivering in her doorway, she invites her in for the night. The woman, Lydia, is sporting an enormous black eye, and it comes out that she and her husband had a big fight and she fled. Bess suspects she may also be suffering from a concussion, and so agrees when Lydia asks Bess to escort her to her home in Sussex, at the appropriately-freakily-named Vixen Hall, in time for a memorial service for her husband's brother. And while Bess and a group of relatives and friends are staying at Vixen Hall, one of the guests is found half-lying in a freezing stream with his head bashed in. Bess herself is a prime suspect, having been possibly the last person to see him alive.
Lydia's husband, Roger, home on compassionate leave, is at first glance a most unsavory character. For a start, we already know he hit his wife. Then, his best friend was murdered just after he revealed the possibility of the existence of an illegitimate child of Roger's, a blonde girl he saw in France who is the very image of Roger's sister who died in childhood. Lydia is desperate to have a child, and she implores Bess to search for the girl when Bess returns to France. Bess does so, although she recognizes the complications that the child's existence would create—not just emotionally, for Lydia and Roger, but for the child herself and her relatives and legal rights as a French citizen.
One of the strengths of A Bitter Truth
is its realistic depiction of war, and the toll it takes even on those who physically survive. Through the novel, the character of Roger develops a bit, and we begin to get a glimpse of how different he and Lydia's marriage could have been had the war not changed both of them irreparably. We also see beyond the obvious casualties—those who've lost sight or limbs or, of course, their lives—to see the plight of orphans and nuns trying to care for them in the midst of battle, and to see how affected those left at home are by all the changes.
I didn't guess who-dunnit. Some other reviews have cited this as a weakness, feeling that clues and character should have been better developed. However, it didn't bother me—in some ways, it felt more true to life to have it turn out the way it did.
A Bitter Truth
is a delightful mystery, and I highly recommend it.
Elizabeth loves a good murder mystery and is starting to count Bess Crawford as a friend. That's not weird or anything, right? Learn more at her blog Planet Nomad.