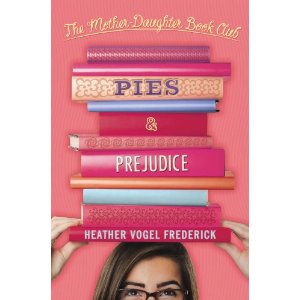 In the last few years, I've become one of those book-lovers. One of those book-lovers who is completely enamored by the wit and relevance of Jane Austen — and if I'm honest, the enigmatic romantic hero Mr. Darcy, especially as portrayed by Colin Firth, has a lot to do with that.
When I found out that the next book in the Mother-Daughter bookclub was going to feature Pride and Prejudice, I couldn't wait to share it with my 12-year-old daughter. We geared up by watching the A&E version of Pride and Prejudice (featuring Colin Firth, of course). It took a while for Amanda to appreciate it (but I made her stick with it, and she ended up appreciating it).
Knowing the backstory, we then delved into a great read-aloud of Heather Vogel Frederick's latest foray into the lives of the bookclub girls Emma, Megan, Cassidy, Jess, and Becca (and their moms), Pies & Prejudice. This year the girls are in high school, and as usual, there are big changes in store for each of them.
Emma and her family and doing a house swap with another professor in England, as they each take a temporary assignment. The family living in Emma's home brings along two boys, who of course end up figuring into the drama.
There's a new "queen bee" to loathe, and as might be expected, one of the characters has her own Mr. Darcy/Elizabeth Bennett type romance. There's even a Mr. Collins-type who supplies lots of comic relief.
The girls are growing up — high school freshman now — but the content is still tame, and the raciest the romances get are a little shy hand-holding and chaste smooching. That makes these books still appropriate for young teens who are that age (and don't want to delve into the typically much more mature YA fare) as well as tweens who are looking forward to their teen years.
Check out some links to my reviews of the first 3 books in the series. Reading them in order helps, but each book stands on it's own as well.
If you are "one of those" booklovers who can't get enough Austen, I think you'll enjoy Pies & Prejudice. If you have a tween or teen daughter to share it with, even better!

Leave a comment here if you'd like to win a copy. We'll announce the winner on December 22. This giveaway is closed.
Check out our current giveaways. Subscribe to our feed. Follow us @5M4B on Twitter.

Jennifer Donovan loves sharing stories with her kids. Read more about her parenting journey at her blog Snapshot.