I'm happy to share another round of Cybils Award nominated picture books that have delighted my own children, and me as well! While my two youngest kids are ranked pretty high on the rambunctious scale, they do enjoy storytimes that are quiet, snuggly experiences, curled up together on our couch. Some books are better suited for this type of one-on-one reading, and these four picture books definitely fit the bill.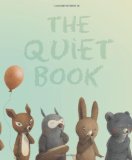 The title sets the stage in Deborah Underwood's The Quiet Book, illustrated by Renata Liwska. Everything about this book is quiet- the text, the tone, the illustrations. This is a very thoughtful book, contemplating all the different types of quiet, and I found that reading it with my own kids made for some interesting conversations and observations about their own (rare) experiences being and feeling quiet.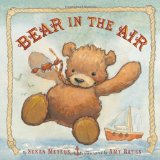 Susan Meyers' Bear in the Air is another book to pull out when your little one has climbed into your lap for a story. While out for a stroll on the boardwalk one day, a baby's stuffed bear falls from the carriage and is nowhere to be found. While Mom consoles the wailing baby, the bear's adventure is just beginning, and he spends the day being bounced from one place to the next in a wacky series of events. Lovers of stuffed bears will rejoice in the serendipitous happy ending, and children will snuggle closer to take in the gorgeous and softly muted illustrations by Amy Bates.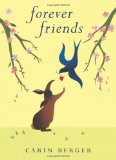 Friendship is often celebrated in children's books, and Carin Berger's Forever Friends should be added to the list of the best. The story line is basic enough- a small blue bird and a young bunny play together one spring day, and their friendship blossoms. When the cold winds begin to blow, the bird must fly away to warmth, but promises to return. The cut-paper collage illustrations intrigue me- they appear so simple, with clean lines and simple design, but they just seem to pop off the page. My four year old daughter was fascinated to find that she could see small letters in the collage pieces, which was explained by a note on the flap explaining: "Berger's cut-paper collages are made using ephemera, such as catalogues, old books, receipts, letters, and ticket stubs." Cool!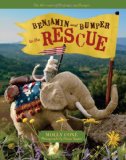 Speaking of visually appealing books, Molly Coxe's Benjamin and Bumper to the Rescue features photographs by Olivier Toppin of the story's characters in small felt-animal form acting out the scenes of the book. When Benjamin's mother goes out to run errands and doesn't return by the time she indicated, Benjamin, the adorable small mouse in blue checkered pants enlists the help of his friend Bumper, a much larger elephant. The two head off on their search-and-rescue mission, loaded up with all the gear they might need. Some clues lead them to Benjamin's mother, and they must use their supplies along with their wits to save her. All in all, an adventure story for young ones, with full-page spread photograph illustrations that made me wish for my own stuffed Benjamin.
If you're looking for more picture books that have been nominated this year, please visit the Fiction Picture Book page and browse the titles. The finalists will be announced on January 1, and I hope to share more from my growing pile in the coming weeks.
Check out our current giveaways. Subscribe to our feed. Follow us @5M4B on Twitter.
Dawn's fascination with picture books is indulged each and every day with her kids. Their adventures, bookish and not, can be found at my thoughts exactly.