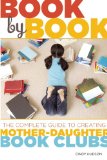 Book by Book: The Complete Guide to Creating Mother-Daughter Book Clubs by Cindy Hudson is a wonderful resource for moms and daughters who like to read together.
I have never been in a mother-daughter bookclub, but reading the same books is something that my tween daughter and I make an effort to share on a regular basis, whether I am reading aloud to her, or we each read the same book independently.
If you are looking to start a mother-daughter bookclub, you will find instructions on how to do so, including advice about when, who and how many to invite, as well as tips for having book clubs with kids of different ages, as well as advice about when the ideal time to start might be (about 8).
The information is comprehensive. For example, in the chapter on size, differing points of views about the pluses and minuses concerning small groups versus big groups are given.
If you are already in a book club, there are ideas that you might not have considered about activities to tie in to the discussion of books, such as plays or service projects.
And of course, there are book lists. The books are listed by age, and give a short yet informative blurb about the theme and issues brought up in the book.
The book is not only instructive, but inspiring. Each chapter contains quotes from current bookclub members telling why they've enjoyed this activity. The chapters also contain sidebars with other details pertinent to each chapter.
Find more information at Cindy's website, motherdaughterbookclub.com.
Though reading together has always been something I've enjoyed doing with Amanda, and it's something that we both plan to continue, we've never considered inviting others to join us. Everyone is so busy with school, sports, dance, church, siblings etc. etc. etc. But you know what? I'm going to look into it. Book by Book has inspired me.
If you either want some inspiration to continue (or begin) reading with your daughter, or are interesting in starting or improving your book club, I have good news for you — we have a copy of the book to give away (U.S. and Canadian shipping addresses eligible). Please leave a comment to win. We'll announce the winner on May 19.
Check out our current giveaways. Subscribe to our feed. Follow us @5M4B on Twitter.
Jennifer Donovan loves to read and loves to encourage others to read. You'll find her discussing that and her others loves at her blog Snapshot.
Congratulations to the winners of last week's giveaways: