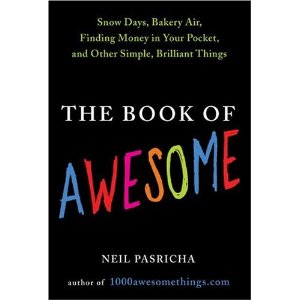 The Book of Awesome: Snow Days, Bakery Air, Finding Money in Your Pocket, and Other Simple, Brilliant Things is great. It's one of those books that would make a great hostess gift, a book to keep in your guest room, a teacher's gift, graduation gift, or just a fun treat for yourself.
Usually this kind of book is good in theory and good for a few chuckles or nods of agreement, but in this book at least 90% of Neil Pasricha's observations are 5-star. I shared an essay or two with my 11 1/2 year old daughter, and she loved them too, and in fact ended up reading through the book before I did.
In addition to essays on topics listed in the subtitle, some others I enjoyed were
The Universal Fry-Sharing Policy
Wearing Sandals When You Shouldn't be Wearing Sandals
The Friendly Nod Between Strangers Doing the Same Thing
When You're Watching one of Your Favorite Movies and Realize You Don't Remember How it Ends
These things are awesome, right? Don't they just make you smile?
Fun book. I'm glad it exists, and I have a feeling that I'll be buying many copies of it.
I recently shared something I think is awesome on my blog: Kids who go back to sleep in the middle of the night without parental assistance.
Want to hear something really awesome? We have two Advanced Reader's Copies to give away, thanks to the publisher. Leave a comment — telling us something that YOU think is awesome. We'll announce the winners in the May 5 giveaway column.
Check out our current giveaways. Subscribe to our feed. Follow us @5M4B on Twitter.
Jennifer Donovan loves simple, brilliant things like children's laughter, a new tub of ice cream, the smell of a new book, and deliveries from the UPS truck. Blogging at Snapshot and managing the great team here at 5 Minutes for Books? Definitely Awesome!