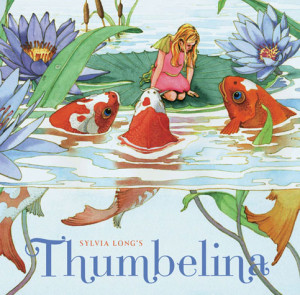 Sylvia Long's Thumbelina
is a breathtakingly beautiful piece of work. From start to finish, I was positively enthralled and delighted, both by this traditional telling of Hans Christian Andersen's story, but by the way that Long painted Thumbelina into life.
Sylvia Long's Thumbelina
uses jewel-toned paintings to depict scenes from this fairy tale. Most of the book reads and appears as a normal book would, in that you would read the page spreads horizontally. However, some of the page spreads are to be read vertically as well, keeping the reader engaged in the story both from natural fascination of the story, and pure delight born of Long's creativity.
I'm running out of adjectives here, folks, but this book is just beautiful. In every single way – it's beautiful!
The last page, which depicts Thumbelina's wedding to the tiny fairy prince, is a fold out spread. We are given a panoramic view of a fairy celebration and I found myself just gazing at it, taking it in with my eyes and feeling positively happy with each new fairy discovery.
Sylvia Long's talent is most evident as she obviously gives great attention to detail. My 3 1/2 year old son sat through the whole book – which isn't exactly a quick and easy read – totally enthralled. I asked him twice if he was done reading and wanted to go play but he choose to sit and enjoy the whole book. We shared it together which is the best way to utilize this book.
Sylvia Long's Thumbelina
is an experience and I'm happy to inform you that Chronicle Books is offering such an experience to one of our readers. One of you will win a copy of the book as well as a poster depicting Sylvia Long's artwork and interpretation of this classic Andersen tale.

To win? Simply leave a comment below. This contest is open to U.S. Residents only. We'll announce the winner on May 5.
Check out our current giveaways. Subscribe to our feed. Follow us @5M4B on Twitter.
Carrie comes by her book obsession honestly, having descended from a long line of bibliophiles. She blogs about books regularly at Reading to Know and Reading My Library.