Toxic Friends was "on my Nightstand" for a while late last year, but it kept getting pushed off the pile. Then I lost it — yes, literally it got abandoned in a bookbag somewhere. But every time I put in on my Nightstand post, at least one person said, "That sounds really interesting." That spoke volumes to me. Apparently we as women realize that our friendships are important, but yes, they are also complicated.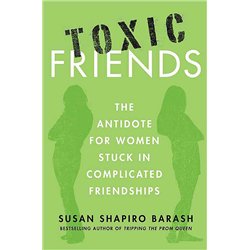 In each chapter, author Susan Shapiro Brash takes a look at the different types of friends:
The Leader
The Doormat
The Sacrificer
The Misery Lover
The User
Intimate Frenemies
The Trophy Friend
The Mirroring Friend
The Sharer
The Authentic Friend
At the beginning of each chapter, Shapiro asks questions to help the reader determine which of her friends might fall into this category. For example, in "The Leader" chapter, she asks,
Does this friend feel more powerful to you than other friends?
Would you go to extremes to be in her good graces?
Do you depend on her plans for your social life?
Does she try to control you at times?
Have you always been attracted to friends who call the shots?
(page 17)
Then throughout the chapter, Shapiro gives examples from the 200 women who she interviewed for the book those who are that type of friend and those who have one in their lives — as well as examples from popular fiction, movies or plays of these personality types in action.
She closes the chapter with application questions designed to help you evaluate the role of that person in your life, such as "Do you and your friends spend too much time trying to please the leader? For some women, it will be easier than for others to be in synch with the leader. If it doesn't work for you, it's time to reconsider what this relationship means to you" (page 44).
She is objective about the types of friends and their purpose in our lives, leaving the reader to understand the relationship and act accordingly. For example, while no one would think that there was an upside to being friends with a User, the case studies point out that there are times when people are mutually using each other, with full disclosure, and in a healthy way. The User is defined as being self-serving, but if all parties are aware, then there are times that it works. I couldn't help but think of people with whom I've become friends because they help me out with my kids or I help them out with their kids. I think it's probably self-serving, but we both know it. A relationship that starts out in that way can sometimes evolve.
The subtitle is "the antidote for women stuck in complicated friendships." I'm not quite sure that it delivered on that. As I said, Shapiro is objective, never saying in an absolute way, "A friend who does this is unhealthy and should be dropped," and certainly does not provide a way to become "unstuck." She instead presents case studies and information about the whys of these "complicated friendships," and leaves it to the reader to decide if a certain relationship is worth it. The examples and information does indeed prove what we all know — that friendship is complicated.
If you are interested in the social sciences of women's friendships, then Toxic Friends will interest you. If you believe knowledge is power, and you feel like you need some power in taking control of your friendships, then you will probably find a few nuggets here as well.
Jennifer Donovan is thankful to have more mirroring friends, sharers, and authentic friends than she can count. She blogs about the things she loves — among them family and friendship — at her blog Snapshot.