It's been a long time since I've read a book in one day. But I just couldn't put down The Familiar Stranger by Christina Berry. I had to know how the story would end.
Denise and Craig have it all. Two sons, a big house, luxury cars. Craig serves a deacon in their church. Denise is a dutiful wife. Yet underneath, their marriage is crumbling. The story opens with Craig announces that he's skipping church and taking a hike to unwind from the pressures of his career as a dentist. Denise nags, then reluctantly agrees. She's unaware that Craig doesn't plan to come home. During the worship service, she receives a call from the police informing her that there's been a terrible car accident.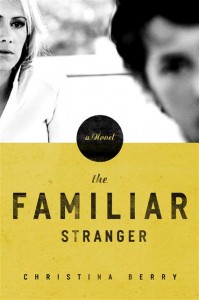 There are a lot of unknowns about the wreck. At the top on the list is the identity of the man with Craig. The stranger died at the scene. Denise tries to sort things out while Craig lies in a drug-induced coma. As the questions swirl in her mind, she tries to remain strong for her sons and her husband. It's almost more than she can bear. And then Craig wakes up.
He's thankful for the beautiful woman caring for him. She's kind, gentle and caring. He just doesn't know who she is. The doctors believe the amnesia is a temporary reaction to the trauma. Denise works to help Craig find his memory, only to discover an affair and an empty bank account. Is his amnesia a farce to cover his betrayal, or will it give the couple a second chance at happiness?
The Familiar Stranger is Berry's first novel. I hope it won't be her last. This book is full of twists and unexpected turns. The duel narrative was well written, and offered insight into both characters. It's an intense, satisfying read.
A big thanks to the wonderful people at Moody Publishers for allowing me to review this book.
Melissa has been captivated by books for as long as she can remember. She resides in Virginia and blogs at Breath of Life.