My eldest son loves to read and I want to encourage that any way I can. That said, he's really not into art or create anything on his own. When I came across Creativity for Kids: Create Your Own Books
I thought that this might be the perfect blend of art and love of reading. I am happy to report that this went over very well and we have been delighted about making our own books!
In the Creativity for Kids: Create Your Own Books
package you receive two blank books (which I've displayed below for you to get a better idea of what they look like.) Of course, my three year old barely likes to draw and can't write out his own thoughts so here is what we did:
1. We designated the smaller book – with a hole for you to include your picture of choice which is then displayed on each page – to be for Daddy.
2. Our Nana had an upcoming birthday, so we created a birthday book for her using the larger book which has a square box for illustrations (or stickers!) and lines for writing out stories.
Once he had the idea that he was creating books as gifts and "surprises!" for other people, he was all gung-ho about the process. He happily drew pictures of octopuses, ship anchors, jellyfish and squid all throughout the books. He practice spelling his name and I allowed him the joys of selecting which photos he wanted to include AND I even let him have control of the glue stick (albeit for a short period of time!) He then dictated his stories to me and I wrote them down in the book.
I have to say that I now have a very hard time mailing Nana's book off to her because it's chalk full of pages and pages of stories of octopuses! It's such a unique showing of who he is RIGHT NOW that I don't want to let it go! But it was a gift and so I'll sacrifice. I'm only consoled by the fact that one of the books was for daddy and its filled with stories of its own. I love this book!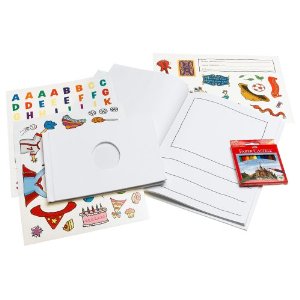 I loved Creativity for Kids: Create Your Own Books
because it encouraged my son to create things all on his own. He would ask me what he was allowed to draw or stick on a page and I kept turning the reigns back over to him, encouraging him to do as he liked. I wanted the books to be an expression of who he is, as well as an encouragement to him to try new and different things. The experiment worked and so I'm a huge fan of the idea of these items. They even prompted him to want to practice writing his letters so the whole alphabet appears between these pages. ("Mommy, how do you spell 'lightfish'?")
The books are well made. They are hard cover and solid white so that the child has the freedom to illustrate them both inside and out. The package of these two books also comes with a set of colored pencils and a whole kit and caboodle of stickers. It was a great set and we loved it very much!
I'm thinking I'd like to do a set every year – keeping one book and gifting out another. It will be nice to see how much he has grown as an artist, and a creative writer!, over the years.
I give this product my enthusiastic parental seal of approval and am glad for the memories which were created this time around.
Thanks, Creativity for Kids, for providing us an opportunity to try these books out!
Carrie comes by her book obsession honestly, having descended from a long line of bibliophiles. She blogs about books regularly at Reading to Know and Reading My Library.