The calendar may only say April right now, but before we know it, we shall soon be celebrating those wonderful people we call Mom and Dad. The folks at Chicken Soup for the Soul have the calendar in mind with their two latest releases, Thanks Mom: 101 Stories of Gratitude, Love, and Good Times and NASCAR: 101 Stories of Family, Fortitude, and Fast Cars.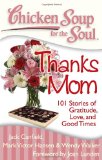 With a foreword and personal story written by Joan Lunden, Thanks Mom is full of stories of motherly love and the appreciation expressed by their children. When I became a mother myself, I found myself looking at my own mom with new eyes, and I believe we all need to remember to say a resounding THANKS! to our moms… and not just on her special day in May. Reading these lovely and respectful stories can inspire all of us to do just that.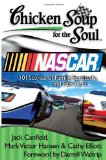 I imagine I'm not the only one who has a car racing fan for a dad, so Chicken Soup's new NASCAR book will probably appeal to many a father out there. This time Darrell Waltrip provides the foreword, a piece that celebrates his religious beliefs and the strength he has seen in several of his NASCAR colleagues. Other familiar racing names appear in this collection as well, and true fans will enjoy the personal anecdotes shared by drivers, managers and other enthusiasts.
If these titles seem like your cup of tea (or perhaps, your bowl of soup?), you'll be happy to hear that we have two copies of each book to giveaway! Please leave one comment to be entered (U.S. and Canada only, please). We'll announce the winners in our giveaway column on 4/28.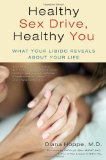 Ever have a book title catch your eye, leaving you instantly intrigued? Well, Dr. Diana Hoppe's new book,
Healthy Sex Drive, Healthy You: What Your Libido Reveals About Your Life,
most definitely fell into this category for me.
Read my full review of Healthy Sex Drive, Healthy You over at 5 Minutes for Mom, and while you are there, leave a comment as your entry to win one of three copies
.
We'll announce the winner in the May 3 5 Minutes for Books column over at 5 Minutes for Mom.
Check out our current giveaways. Subscribe to our feed. Follow us @5M4B on Twitter.
Dawn appreciates both her emotional-stories-loving Mom and cars-driving-in-circles Dad. They probably shake their heads at the silly stories on her blog, my thoughts exactly.