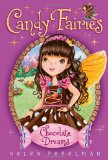 For young girls beginning to read chapter books, there are many series available. Unfortunately, many of the more popular series include quite a bit of sassiness and negative attitudes. Because of this, I was excited to read Chocolate Dreams
, the first book in the Candy Fairies series.
The Candy Fairies live in Sugar Valley, and they are excited about the coming spring egg parade. Cocoa, the chocolate fairy, is particularly excited because she is responsible for the special chocolate eggs for the parade. Unfortunately, the eggs are stolen from their nest, and Cocoa feels that she has failed everyone in Sugar Valley. With the help of encouraging friends, Cocoa sets out to recover the eggs and save the spring celebration.
My daughter (age 5) and I read this book together. At the beginning, I was worried it might be a little too sweet (and it sure made me crave sugar), but as the story progressed, I found myself cheering for the friendly fairies in Sugar Valley. My daughter loved the story from page one: there was plenty of excitement to hold her interest, and she enjoyed the fairies and their involvement with different types of candy. As a mom, I appreciated that the book delivered a fun story with a positive message without all the sarcasm and bad attitudes.
Chocolate Dreams
is the first story in the Candy Fairies series. Rainbow Swirl
, the second book, is available, and more books will be released in the coming months. If you have a young girl interested in chapter books for reading alone or for a read-aloud, be sure to check out this new series by Helen Perelman!
Lauren is a wife, a mother of two, an avid reader. She blogs at Baseballs and Bows. Thanks to the author for providing the review copy of the book.