There are some picture books out there that are not really intended for their target audience. Yes, the three-year-olds and the seven-year-olds may listen, they may like the artwork, but perhaps what they like most is being close to Mom as she reads words that speak to her heart. I have to admit that I am likely as not to get teary-eyed when I am reading Are You My Mother?. It does warm my heart when the baby bird recognizes his mother and they are finally reunited, but this is a children's book. The rhythm is perfect for children, the drawings are appealing in their simplicity, but there's no question that it speaks to moms in a completely different way (or is it just me?). Now Love You Forever is an entirely different category. I remember being a baby showers where someone insisted on reading it, and the moms didn't even want to hear it.
These new books from Harper Collins are in the same category as the former — books that will have special meaning to moms but that will also appeal to children. They would also make great baby shower gifts or even Mother's Day gifts.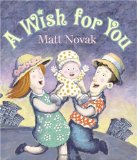 A Wish for You is written and illustrated by Matt Novak. The pictures are gorgeous — a sort of muted watercolor, with a whimsical yet realistic look. It's a fairly typical story — two people who meet, and then become three. It starts off with "Before there was you," and is one of those books that a young child would like to hear, because they never tire of hearing that they were loved and wanted. The text size is large and the words are easy with a simple rhyme, great for reading aloud or for young pre-readers to follow along.
Novak clever uses sound words like the ones on the page describing "when you were new," including "goo! goo!," "kitchy-koo!" and "pee-you!" What preschooler wouldn't laugh at the odors that waft from the baby's diaper?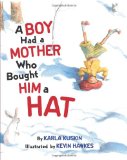 A Boy Had a Mother Who Bought Him a Hat by Karla Kuskin will appeal to slightly older kids, and the illustrations by Kevin Hawkes are absolutely gorgeous. They make me want to take a straightedge to the book and frame them. This is the story about a mom who buys her son many different things (starting with a hat). Each item follows the same word pattern repeating all the items that came before and adding one to the end, which is a great way to bolster confidence in reading. The boy loves everything that Mom gives him that he wears/takes all of it with him everywhere. It's silly, but I think that there's a subtle message about over-gifting as well. It's clear that the boy accepts the gifts as a token of his mother's love, but he doesn't need them to feel loved.
What books that speak to a mother's love have been your favorites? Do your children enjoy hearing them (as mine did Are You My Mother?), or not?
In spite of Jennifer Donovan's hard shell, she's a little bit of a marshmallow inside. Read other surprising confessions at Snapshot.