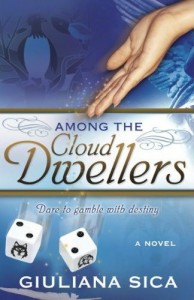 Mysticism, past life regression, and perhaps a bit of plain old magic all come together in the unique novel Among the Cloud Dwellers, a multi-layered story from author Giuliana Sica that takes readers around the world and through time on a wild ride. Porzia Amard's job as a freelance writer allows her to pursue her passion for wine, an interest that is in her Italian family's roots. From her French grandmother, she has supposedly also inherited a legacy of magic as well. Does Porzia believe all this, including the idea that she has one true soul mate out there who has been a part of her through multiple past lives?
Though she is reluctant at first to think about what is revealed to her in her past life regression experience, she cannot deny the instantaneous attraction to the stranger she meets on a long international flight. Beyond something purely physical, this attraction to Gabe boggles Porzia's mind, and soon she finds her life altered unexpectedly. Combined with the other experiences opening up her mind, Porzia realizes she's at the precipice of something big, something beyond this world as she knows it. Has the identity of her soul mate been revealed to her in this life, or is this simply one leg of her journey of self-discovery? Soon Porzia discovers that Gabe has secrets of his own, and another layer of mystery is added to the plot.
I have to say that this book was completely out of my usual reading comfort zone, for neither mysticism nor romance are typically on my reading lists. But, there was something about this story and the character of Porzia that pulled me in right away when I first read it. Even as the mystical parts confused my realism-craving reader's soul, I still found myself wanting to know what would come next. Sica clearly has a grip on sensual writing- from the tastes and smells described in deep detail to the tantalizing and passionate scenes of love that might cause some to blush, this is most definitely a novel that employs one's imagination along with all the senses.
Among the Cloud Dwellers calls for a suspension of disbelief, as well as perhaps a small inclination to entertain the previously unbelievable, in order to fully experience the ride. As just the first book in a trilogy, I'm still left wanting, and I look forward to even more magic from the next installment.
A note about the publisher, Gemelli Press: check out their site for a list of unique titles that speak to their mission as a "boutique book publishing company":  "Just like an Italian nonna choosing the perfect pomodoro, we too hand select our authors so that we can produce high quality books that touch and inspire our readers. Our unique collection of Italian-inspired publications includes fiction, memoirs, travelogues, and other nonfiction focused primarily on food, wine, and Italian life and language."
Dawn loves it when a book surprises her and makes her want to talk about it to anyone who will listen. Talking in online form, she blogs away at my thoughts exactly.