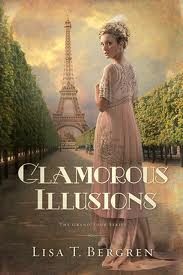 Glamorous Illusions is the first novel in Lisa T. Bergren's new Grand Tour series.
The year is 1913, and Cora Diehl returns from her second year of college to find her father struck down by illness and the crops on the family's farm failing from drought. It seems unlikely that she will be able to continue her education, and it's not even certain whether they will be able to hold onto their house and land. Into the midst of this turmoil comes a stranger, Mr. Kensington, with a revelation that will change her life forever.
Click to read the rest of my review at 5 Minutes for Mom, and leave a comment there to be entered to win a copy for yourself. This giveaway is now closed.