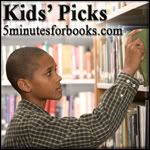 Summer is in full swing here and my kids have embraced the library's summer reading program, as usual. My 8 year old has already filled his first sheet for a prize and is well into his second. He has an additional carrot as his teacher challenged the rising fourth-graders to read 600 minutes by August 10, with a pizza party for those who succeed. The 5 year old isn't too far behind, though later bedtimes have cut into his reading time a bit more than his brother's.
How much summer reading is accomplished in your house? Do later bedtimes due to later sunsets and no morning commitments mean more or less reading? I linked up to my post on the subject below and invite you to share your kids' summer reading adventures.
Please link directly to your blog post, and include your children's ages for ease in visiting.
Don't miss a thing: Check out our current giveaways. Subscribe to our feed or video reviews on YouTube. Follow us @5M4B on Twitter or on Facebook.