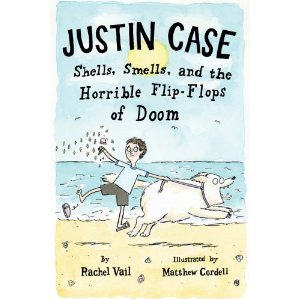 Some books wow me from the first page. Justin Case: Shells, Smells, and the Horrible Flip-Flops of Doom didn't quite do that, but my 8-year-old son had already dug into this book and given it his hearty endorsement, so I kept holding out hope. And then — 25 pages in, Justin's warmth, honesty and humor (whether he plans it or not), as created by author Rachel Vail totally hooked me. This is the 2nd "Justin Case" book, but neither my son nor I had read Justin Case: School, Drool, and Other Daily Disasters, and we didn't feel like we were missing anything. However, I can tell you for sure that we'll be going to the J FIC Vail section in the library this summer to pick up the first one.
When I'm reading kidlit, there are things that must be present for it to be a success in my kid's eyes, but then there are those elements that as a parent I really hope are there. This book has both in abundance.
THIS PARENT LOVES:
Justin Case just finished 3rd grade, but before he gets to 4th, he has to get through summer camp. He's always gone to science camp, but this year, he and his parents have decided to give Camp GoldenBrook a try. Instead of hanging out with the "calm worried kids" that he self-identifies with, he'll be swimming and doing sports with the "runny-aroundy kids." Justin has his fair share of difficulties, such as being put in the lowest swim group and the results of the painful card game Knuckles, not to mention those flip flops that just don't fit his anatomically weird toes.
The parents are human — not overly protective, too sarcastic, too cartoonish. They are funny and caring, but real. For example, when Justin hears the word "pacifist" at camp, he confuses it with pacifier, and his parents rib him a little about that. It's exactly the kind of thing that goes on in my home. Maybe not textbook supportive parents, but it's real.
Also — yes — there's a message. Justin wants to quit the summer-long day camp when he suffers some setbacks, and his parents decide to let him. But on his own, he decides to finish strong. He also showed real character by being kind to others and in spite of his "calm worried" persona, he was a positive agent of change.
KID APPEAL:
My son enjoyed this book because it was funny. That's definitely something that draws him to a book.
The diary format (which equals short chapters) makes it a great transition to longer chapter books. Though my 8-year-old is a great reader, he still has to be compelled to read "long" books. Being almost 200 pages classified this as a long book to him, but it makes a perfect transition to longer chapter books for 2nd graders and up.
The line drawings by Matthew Cordell appear on about every 3rd page spread, and that also makes it easier for kids to read (and more humorous).
Justin Case reminded us both of Alvin Ho (who I adore), and I can highly recommend adding this new reluctant hero to your child's reading diet.