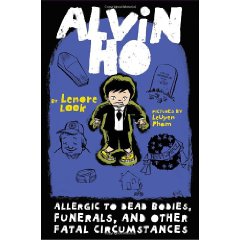 I was first introduced to Alvin Ho when I was reading for the Cybils last year. I loved his humor and vulnerability and the appeal to younger middle-grade readers (Read my review of that book, Alvin Ho: Allergic to Birthday Parties, Science Parties, and other Man-Made Catastrophes). I thought that this particular hero would be a perfect fit for those younger 2nd and 3rd-grade kids who were good readers (but also popular with older elementary kids). I was able to put my theory to the test when I put the book in my 7-year-old son Kyle's hands this summer. He loved it and promptly read 2 other books in the series, including this newest one Alvin Ho: Allergic to Dead Bodies, Funerals, and Other Fatal Circumstances.
I remembered Alvin Ho's humor and quirky dark side, both of which are present here, but this novel felt a lot deeper to me. Perhaps because the subject matter is more serious, the tone followed.
Alvin's GungGung's (grandfather's) best friend Charlie has died. Feeling sorry for him, Alvin tells GungGung that he'll go to the funeral with him — but then he immediately regrets that decision when he starts thinking about how scary funerals are. He's never even been to a funeral, but he finds out more than he wants to know about them from his school friends. And in the process of him discussing the upcoming funeral with his friends, they misunderstand and think that it's actually his grandfather who has died.
This little mixup definitely provides the comic relief to the novel, going as far as a memorial at school hosted by the other grandparent library volunteers!
Confronting this issue has 7-year-old Alvin thinking about death. Not just Charlie, who was his friend too, but especially with the mixup, he worries about GungGung's death. I think that the death of an old person who is not directly related to the child is a very healthy way to explore it — both for the fictitious Alvin and the child reading it.
I enjoyed seeing this more thoughtful side of this 2nd grader. It felt slightly less neurotic, because kids will definitely relate to it, which made it a more real and less quirky story — which worked for me just as well as the others.
This is nominated for a Cybils award, in the middle grade fiction category on which I serve as a panelist. This review represents my opinion and in no way indicates the final decision of the group.
Jennifer Donovan is allergic to housework, hard work, staying up late and other unnatural circumstances. She blogs at Snapshot.