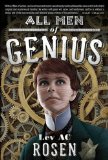 It's Victorian England, and Violet Adams is a frustrated young scientist. Her biggest wish is to go to Illyria University, famed world-wide for its exclusive focus on science, but they do not admit women. Her twin brother Ashton, meanwhile, wants nothing more than to patronize London's exclusive clubs and meet other like-minded young men. When their father decides to spend a year touring America, the stage is set for a daring plan—Violet will pretend to be Ashton and go to Illyria while Ashton spends the year at their London townhouse. Meanwhile, their housekeeper, who raised them after the death of their mother, will continue on in ignorance at their country house.
I used the phrase "the stage is set" intentionally—All Men of Genius
plays off elements from both Twelfth Night and The Importance of Being Earnest. Certain plot motifs—a girl pretending to be her twin brother and catching the love of a confused and conflicted duke (in this case Duke Ernest Illyria, head of the college)–come directly from Shakespeare, while certain names and lines, not to mention a certain side of London life, come from Wilde (plus a handbag that turns into a baby carriage!). A lightheartedand playful style is in homage to both, and it's fun to trace out the references.
Illyria is a mysterious place. It is run by an enormous clockwork wall, powered by water, and the gears never stop grinding. Even the Duke, whose father was the founder, does not know the whole basement in all its maze-like glory. And there are many secrets to be found—doors without apparent locks or knobs to open them, strange squid-like creatures that steal supplies, invisible cats, trains that don't run for no obvious reason, robot-like creature with claws that reach out to rip human flesh.
Violet and her childhood friend Jack both gain admittance and are room-mates, which helps Violet immensely with her scheme. She learns to lower her voice and walk differently, learns to bind herself tightly, and surprisingly, learns that she misses being a woman. Her growing feelings for the Duke are a part of this. Meanwhile, the Duke's young ward Cecily is drawn towards this sensitive young "man" and finds herself falling for Violet, believing her to be Ashton.
Cecily's governess is a woman named Miriam, a young widow who was born a Jew in Persia and as such is doubly outcast. She is very independent and is carrying on, in secret, with another student who befriends Jack and Violet. There's a theme of women having to live hidden lives just to express who they really are, while around them men are allowed unlimited freedom, that is seen in Violet and Miriam's lives as well as echoed in Cecily's, whose remarkable position allows her access to a scientific education and free run of the college without her having to disguise herself.
Each student is expected to produce some marvelous invention by the end of the year, to be revealed at a grand "faire" attended by the Queen. Violet plans to unveil not only her invention but her true self. Will all go according to plan, or will she be unmasked ahead of time? Will the duke still love her once he finds out how he's been deceived? Will she survive until then?
All Men of Genius
is a fun read, written in a somewhat Victorian style that fits the subject matter. It's of a genre called steampunk, which I had to look up cuz I'm not cool like that, and which basically means it's set in Victorian times but with sci-fi and fantastical elements—like a rabbit with a parrot's voice box who curses like a sailor. If you enjoy classic literature with a few twists, this is a book for you.
CONTENT NOTE: Although it is classified as Young Adult, I would recommend it only for older teens, due to several sexual references and some swearing and bawdy humor.
Elizabeth loves Shakespeare, Wilde, and wildly-imaginative puns and wordplays. She is glad she was born in modern times as she is not a good housekeeper and would not have been a good governess. Learn more at her blog Planet Nomad.