There has been big push in recent years to get boys more interested in reading. Jon Scieszka's Guys Read collection is a good start, but his lists are geared toward middle grade boys, and rightfully so, since that's when boys who like reading start to lose interest. But there's still a pretty big gap in boys for books in the Young Adult genre, and 3 new books from Scholastic make good strides in closing that gap.
Markus Zusak won awards for The Book Thief, but years before that book's release he wrote 3 short novels about Cameron and Ruben Wolfe, teenage brothers from a working class family. After several years out of print, those novels are available in one collection, called Underdogs. The first of the three, The Underdogs, establishes the characters but doesn't have much of a plot. But the first person narration by younger brother Cam is intelligent and insightful and his view of the world around him more than makes up for the lack of anything happening. Things get going in Fighting Ruben Wolfe, a title with multiple meanings, where Cam and Rube get involved in a fight club of sorts. In the final book, Getting the Girl, Cam falls for one of Rube's many girlfriends, but realizes his brother is the most important person in his life. Each of the books take place during winter, a year separating each of the events chronicled by Cam, and the cold and dreary setting sets the tone for the books. Cameron grows up, both physically and emotionally, and Zusak's writing also evolved, with Getting the Girl the best of the three books.
The reviews for The Eleventh Plague
and iBoy
were written by Elizabeth's 16-year-old son, Elliot.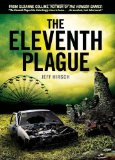 The Eleventh Plague
The only life Stephen Quinn has ever known has been that of a forager. He and his father live in the ruins of North America, hunting, gathering and trading whatever they can to survive. After his father is injured, Stephen needs help which he finds in a small community of people trying to survive as well. Stephen learns many new things which he has previously had no experience with, things such as school and baseball, etc. But some in the community are suspicious of Stephen, thinking he is a spy for another community a little ways away. These two communities harbor a strong distrust for each other, which soon leads to war after Stephen and a friend play a prank on the strict community leaders, and make them think that the other side is responsible. The elders hire mercenaries to wipe them out, but the people of the community won't back the elders or mercenaries and attack them. The other community arrives prepared for battle but winds up helping the people fight off the mercenaries. This book, placed in the ruins of nuclear war, sends a clear message, that though humans are capable of great evil, they are also capable of good. This is a great book for anyone who likes to read. Good plot and storyline.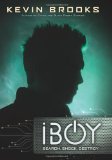 iBoy
is a really great book. It's got a good plot and a fun idea to write about. Tom Harvey wakes up from a coma to find parts of an iPhone lodged in his brain, and that his best friend has been raped. He soon discovers that he can do everything an iPhone can do and more. He can hear all calls, look at all messages, etc. He can access any part of the internet whenever he wants. He decided to punish the gang that raped Lucy. He gets back at them in many ways–he beats them up, gets them in trouble with their gang bosses, etc. This is a very intriguing novel and had me hooked quite quickly; I finished it within 24 hrs of starting it. It has a good story line and the characters are well developed. The book is narrated in the first person, which gives the reader a deeper understanding of Harvey's conflict. He struggles with what he should do with his power. He is unsure how far to go, who to tell, etc. He struggles with taking things that aren't his from the internet, even though it is for a good cause, and he knows the people can spare it. When his grandmother needs money, he takes £1 from each of the 15,000 most richest people in the UK. They aren't going to miss £1, but the money is not his. Once again this is a great book, and I would recommend it to anyone.
Scholastic has graciously provided a prize package for one (1) winner, consisting of copies of Underdogs, iBoy and The Eleventh Plague, along with a $50 Visa Cash Card! Leave a comment below to enter, and the winner will be announced on December 28. The Giveaway is closed.
Though this giveaway ends after Christmas, these would make great gifts for teenage boys looking for new material. Girls would enjoy them too.
Don't miss a thing: Check out our current giveaways. Subscribe to our feed or video reviews on YouTube. Follow us @5M4B on Twitter or on Facebook.
Nancy is stockpiling lists of middle grade and YA books for boys. She writes about her 2 boys, books and life in Colorado at Life With My Boys and Books..