My sister was reading the Ellen Hopkins YA books about drug addiction (to crystal meth) last year. She said that they were riveting, but wouldn't let her middle school daughter read them. They were not meant for that audience.
Based on my sister's experience, I accepted review copies of her first (I believe) adult novel Triangles, and shortly thereafter, I was offered an audiobook of a new YA book Perfect.
I'm going to put my CONTENT NOTE right up here at the front. These books are both more explicit than what I usually read, much less recommend. So if you are sensitive to language or sexual content, you'll want to skip these. Additionally, though it's technically a YA book, the characters in Perfect are mostly high school seniors, and I think it's more a YA in the sense of 17 – 20 sort of book, even though the publisher's recommendation says 14 and up, so I'm not even putting my High School YA label on this post.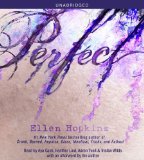 I started Perfect first (having more room in my audio line-up than review books TBR list). The story and the audio worked seamlessly together for me, each adding to the overall effect. You couldn't "hear" the poetry, since it's free verse, except in repetition and the way that one chapter led into the next, even though there's an abrupt change from chapter to chapter as the narrator changes. We hear from __ narrators, and get to know a lot about a few other characters as well. The theme of the novel is what a strain being "perfect" is on these young adults. They have to live up to their own expectations, not to mention those of their parents and classmates and society in general. For each of them, the strain leads them to act out or rebel against that notion in different ways:
Cara — the definition of perfect. Beautiful, a good student, a popular cheerleader, not too outspoken. But the recent attempted suicide of her twin brother Conner has caused her to question everything — her family, her relationship with her boyfriend, her friends. Why everyone really likes her is truly tested when she gets a girlfriend.
Sean — the boyfriend, also a perfect specimen, but it's a ruse. He is afraid he won't perform as a baseball slugger without the steroids he's been using. Cara dumping him, her lifestyle choice, and the chemicals all interact to disastrous results, complete with consequences.
Kendra — the beauty queen and model. Perfect beauty, at least as far as the camera. But she wonders if she's always be a pretty face, and is willing to go to extreme lengths to stay hot, including anorexia and plastic surgery.
Andre — the perfect son. Unfortunately the definition of perfect for his affluent African American parents means achieving success in a worldly way. There's no room for his interest in art and classical dance. When he falls for Kendra's younger sister Jenna, he realizes that love does not conquer all.
AUDIO NOTE: Though I missed some of the visual beauty and layering of Hopkins' free verse by listening to this (look at the search inside feature of either book to see some examples of this), the audio version was fantastic. These characters are raw and honest, and hearing their stories voiced made them even more powerful. Each narrator had a different reader, which I like in books that switch POV. Aya Cash (Cara), Heather Lind (Kendra), Aaron Tveit (Sean) and Tristan Wilds (Andre) each do an impressive job translating this text to audio. Highly recommended.
CONTENT NOTE: Like I said, this book was pretty explicit and hard to read/listen to at times. However, I saw it almost as a case study into this generation. I believe that all of these issues are common to students, and I love when literature offers me a glimpse into the minds of people, whether fictitious or real. My daughter will be entering high school next year, so by default she will be interacting with much older students. It's scary, but it's the truth. And I want to be able to relate to the struggles she's seeing right in front of her, and have compassion on those kids and their bad choices. I think that ultimately, this was easier to read than Triangles, because teenagers are stupid and make stupid choices. Actually, the review of that book below proves that adults make stupid choices too.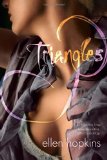 I didn't relate to the characters in this book as much. Or maybe since they were women my age with kids near my own daughter's age — the issues of marital infidelity, unhappiness, teen pregnancy, loyal and disloyal friends, the hardship of caring for an ill child — maybe they just struck too close to home for me to enjoy it as fiction.
This content is definitely more explicit than I usually read (or would read again), specifically Holly's marital straying and her attempt to write erotica, which is my biggest reservation. But I do like Ellen Hopkins' style, and look forward to reading more of her books, if the content appeals to me. She has the ability to express the wants and needs and inmost thoughts of her characters in a way that is impressive.
NOTE: When you look at the page count of her books, you might be overwhelmed, but remember that it's free verse, unrhymed, so it reads pretty quickly. The verse isn't difficult to read (and when listened to you don't even hear the verse), but the poetic form does add a layer to the text.
Jennifer Donovan loves to read. She likes to write about reading too, so she is very thankful for her role here at 5 Minutes for Books and has even started blogging regularly at Snapshot again!!