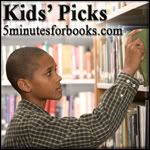 It's that time again. Perhaps the suggestions of books that your kids have enjoyed reading will fall on the right ears — people looking for holiday gifts for their own children or nieces and nephews or grandkids. I know that books are definitely going under my tree!
I linked up my own post below, and I definitely have some surprises in this month's post. Amanda is reading something that was a big stretch for her, and Kyle — well, I actually had to ground him from his favorite books.
What about you? What book has your child loved this month? What book would they tell their friends about — if talking about lovely books is still cool, which unfortunately now that Amanda is in 8th grade, it's not something she talks about with her friends. She has a few bookish ones, and I love them for that.
Don't miss a thing: Check out our current giveaways. Subscribe to our feed or video reviews on YouTube. Follow us @5M4B on Twitter or on Facebook.
Please link directly to your blog post, and include your children's ages for ease in visiting: