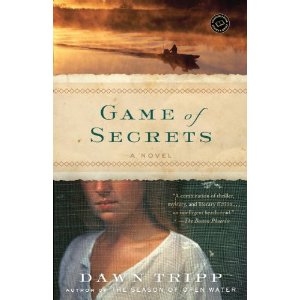 Set in a New England town of taciturn, silent people, Game of Secrets
deals with the losses and gains of every day life. The story follows 3 people—Marne, her mother Janie, and Ava, the woman who had a well-publicized affair with Janie's father—and there are also a few chapters from the point of view of Huck, Ava's son. There's an element of mystery too—Janie's father Luce was murdered, and his killer is popularly supposed to have been Ava's husband. This event has shaped the lives of his daughter and grand-daughter, as well as his lover and her children.
Marne has recently returned to her small hometown because of her mother's illness, but she's having a hard time being back. She's working at a restaurant, making origami birds to sell, and kind of killing time when she runs into Ray, Ava's youngest son, and falls hard.
The book moves back and forth in time. We see Janie as a young girl who loves her father in spite of his shortcomings, and again as a teenager falling in love. We see Ava as an abused wife, as an errant wife, and, currently, as a still-beautiful and intelligent scrabble player, who has made her peace with Janie as they meet for weekly games. The pivotal events of the summer of 1962, when a new bridge and highway connected the small town to the larger world around them, are evoked with much detail; that is also the summer in which the body of Janie's father was discovered with a bullet hole through his skull.
All 3 women are dealing with loss. Ava and Janie have lost children and Janie her father, and Marne deals with a more unspecified sense of grief in this world. She struggles with what her burgeoning relationship with Ray means to her sense of loyalty to her family. Huck was the town troublemaker and is now its elderly ne'er-do-well, but the few chapters from his youth present a teenager alive to life in all its senses, but constantly beaten down. And the chapters following the scrabble game between Ava and Janie reveal, slowly and tantalizing, the truth of what happened during that long-ago summer, and the cost keeping its secrets has taken on their lives.
Full of lush descriptions that bring this small-town and its characters to vibrant life, Game of Secrets
is the sort of book that should be savored. It invites you to read slowly and enjoy it, while not losing its sense of plot (as some descriptive books do). It's extremely well written, a haunting, evocative book. I highly, highly recommend it.
I'm also really happy to announce that one of you can win a copy of your very own! Simply leave a comment below to enter, and tell me…have you ever found yourself revealing a secret during a Scrabble game? We'll announce the winner on June 27th. Open to US addresses only. This giveaway is now closed.
Don't miss a thing: Check out our current giveaways. Subscribe to our feed or video reviews on YouTube. Follow us @5M4B on Twitter or on Facebook.
Elizabeth usually finds during Scrabble games that she has a higher vocabulary than her husband, which has led to some, er, interesting discussions. Learn more at her blog Planet Nomad.