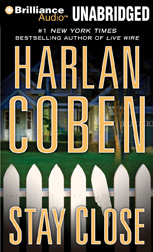 I've read one or two of Harlan Coben's books and enjoyed them for the type of stuff that mystery/suspense gives me — quick-paced plots and easy entertainment. I liken those kinds of books more to television viewing than reading (maybe it's the "low-brow" connotation? Don't know. But when I was offered the chance to review the audio version of Stay Close, I decided to give it a try.
From the publisher:
Megan is a suburban soccer mom who once upon a time walked on the wild side. Now she's got two kids, a perfect husband, a picket fence, and a growing sense of dissatisfaction. Ray used to be a talented documentary photographer, but at age forty he finds himself in a dead- end job posing as a paparazzo pandering to celebrity-obsessed rich kids. Jack is a detective who can't let go of a cold case-a local husband and father disappeared seventeen years ago, and Jack spends the anniversary every year visiting a house frozen in time, the missing man's family still waiting, his slippers left by the recliner as if he might show up any moment to step into them.
One problem I had with this story was that which often comes up as a setting in the suspense genre (and TV forensic and detective shows as well, now that I mention it). Meghan's past was as a dance at La Creme, a strip club. I don't remember the book being particularly sexually explicit, beyond that setting, but there was some fairly explicit violence.
Some of these "misses" (in my perfect scenario) aside, Stay Close delivered a fair amount of character development, and I found the characters to be surprisingly relatable. Whether the characters were clinging to the past or avoiding their futures, I think that there was a reality in their hopes or doubts or fears that the average reader could relate to.
The mystery of the missing men kept unfolding, as well as the character's own personal demons and motivations in a way that kept me interested. The relationships and case were each wrapped up in a satisfying yet not cliched way. I caught on to the true criminal just before it was revealed, which always feels just about right to me. I don't like to see it coming from a mile away, but when it's too out of the blue, it doesn't quite ring true.
AUDIOBOOK NOTES:
The reader Scott Brick has a perfect voice to tell this story. It's a little sinister, but clear and straightforward. Listening to an audio version of a suspense novel forces me to keep the pace slow. A professional narrator reads at a consistent and steady pace, whereas a physical page-turning reader like myself, is known to quickly skim ahead in a fast-paced novel. Listening (instead of reading with my eyes) insured that I could enjoy the story as it unfolded and not skip ahead.
Listen to a sample at Brilliance Audio's website.