I love books about friendship. A story which unfolds within the frame of the complex relationships among friends will almost always pique my interest, much more than a traditional love story. The love between a parent and child (or in this case a surrogate-parent and child) is just as lovely to me.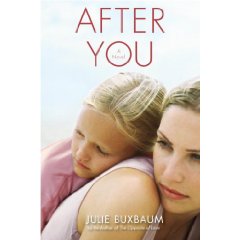 So, when I realized that the plot of After You centers around Ellie, who flies out to London after the sudden death of her best friend Lucy to help care for her daughter Sophie, I was almost 100% sure that this was a book I would like.
When I saw that Ellie's and Sophie's restoration after this tragedy comes about as a result of delving into one of Ellie's favorite childhood novels The Secret Garden — well, then I knew I was sold. A book that features another book as a central character?? Perfect.
This book entertained me, it moved me, and I came to love and understand and ache for these characters: for their struggles, their awkwardness, their regrets, and their victories. Author Julie Buxbaum has created real characters who are flawed yet likable. In addition to the issues of life after someone's death, and friendship, and the love of a child, Buxbaum deftly tackles the intricate realities of other relationships as well: a marriage, grown parents and children, new love, and even that delicate dance that acquaintances make.
I'm always a bit speechless when it comes to a book I really love. And I did love this one. I am fairly sparing with my 5 Star ratings, and because this is clearly "popular women's fiction" (which I do think differs from the lighter nature of chick-lit), I grappled with the idea of rating it with 5 Stars. However, in the end, that's what it deserves, and I'm proud to add this to my list of 5 Star Reads.
Read author Julie Buxbaum's On Reading column for more on her personal love of The Secret Garden.
She laughs. She cries. She just sits there, staring and pondering, after finishing a book. That's how Jennifer Donovan knows she loves a book. She also blogs at Snapshot, where her writing is fairly guaranteed not to make you laugh or cry or stare and ponder, but she invites you to stop by anyway.