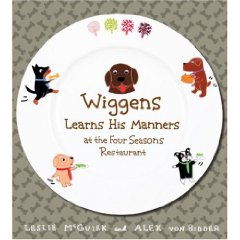 Wiggens Learns His Manners at the Four Seasons Restaurant
is a new book available to address the issues of proper manners for children "these days." The story focuses on Wiggens, a chocolate Labrador puppy, who is a "total rascal" when it comes to manners. His parents are at their wits end trying to get him to mind his p's and q's and so they take him to the Chi-waa-waa, the oldest and wisest dog in Manhattan to learn how to improve his behavior. The Chi-waa-waa sends Wiggens to the Four Seasons Restaurant in order to learn good manners – such as the following:
– Being patient
– Greeting people politely
– Being quiet and polite
– Asking for help when it seems necessary
– Being respectful of others
– Listening patiently
– Asking before taking things that do not belong to you
– Apologizing when necessary
– Saying please
– Saying thank you
This book does cover the bases in an almost tongue-and-cheek manner. The basic message is that we need to learn to act with kindness and respect towards others. I could have done without the zen references in this book. I think this book could have remained neutral when it came to manners, instead of focusing on anyone particular faith or practice which makes the book something of a drawback. That said, it is different and unique and a diversion from books on manners that you might typically see.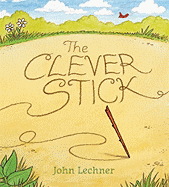 The Clever Stick
is another new release and has an equally important message to communicate to its reader. The Clever Stick
is very smart indeed. He witnesses much in the world, but is unable to communicate about anything that he sees because, as you might know, sticks can't talk. He couldn't tell squirrels where to find more nuts and he couldn't tell the rose how beautiful she was. He couldn't really share in the world around him at all until he figured out that he could write in the dust. The other animals in the forest didn't pay any attention to him at all until he discovered his gift and created masterpieces in the dust.
This is a simple book about a simple item. However, it is quite endearing and my son was delighted with the castles and dragons which the stick drew for its own amusement, and for the amusement of others. We very much approved of this particular book and enjoyed it very much.
Carrie comes by her book obsession honestly, having descended from a long line of bibliophiles. She blogs about books regularly at Reading to Know.