So this is no small decision, choosing what we are going to read today, what book both Sophie and I will forever associate with this moment, what we read after. And when the answer is right in front of me — of course, The Secret Garden — all I have to do is touch the mint-green cover and I am thrown back twenty years to my parents' bedroom in the old house in Cambridge.

"Have you read this one?" I ask Sophie now, trying to keep my tone neutral, though I can think of nothing better than dipping back into The Secret Garden. I have read it dozens of times over the years, and it has not yet lost it's power. Little Mary Lennox and her locked garden — sweet, yes, but redemptive too.

–From After You: A Novel, by Julie Buxbaum (page 36)
Whenever I do a reading of one of my novels, I always get asked "What's your favorite book?" and I find that people are often surprised by my answer. I think they expect something esoteric or at least something that's designed to telegraph something about myself. The person who says they love Lolita, for example, is making a statement distinct from someone who claims Immortality">Immortality, or Pride and Prejudice, orA Passage to India, or The Echo Maker, or even War and Peace as their favorite.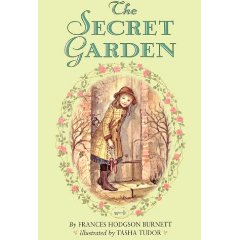 Books—or our bookshelves at the very least—seem to me to be very public displays of our tastes and maybe even our souls. And though I love every one of the books I mentioned above, and could easily list fifty more that I think every person should read before they die, I only have one favorite. The one that, if God forbid there were a fire, I'd make sure to save from my burning bookcase. No matter that it's a children's book, no matter that taken on its face choosing it doesn't make me sound smarter or better educated or in any way sophisticated. Simply put, I love The Secret Garden.
I can't think of a single other book that I have turned to as consistently or read as many times, sometime purely for plot, oftentimes for its therapeutic value. I guess it's not surprising then, that my second novel, After You, is essentially a love letter to this children's classic. The Secret Garden is a magical, touching story—at times maybe a bit too sentimental—but it always leaves me happier and inspired. And I am not sure you can ask for more than that from your favorite.

What does your favorite novel say about you? What does it do for you?
Guest Contributor Julie Buxbaum is the author of the two highly acclaimed novels, The Opposite of Love and After You, which have elicited praise from best-selling authors such as Jodi Picoult (and Dawn and Jennifer — the titles are linked to their reviews!). Julie is a graduate of the University of Pennsylvania and Harvard Law School. Before becoming a novelist, she was a litigator in both New York and Los Angeles.
The Opposite of Love was chosen as a Barnes & Noble Discover Great New Writers pick, has been translated into nineteen languages, and was optioned for film by Twentieth Century Fox with Anne Hathaway starring in the leading role.
Julie currently lives in London, where After You is set. To learn more about Julie or her books, please check out her website: www.juliebuxbaum.com