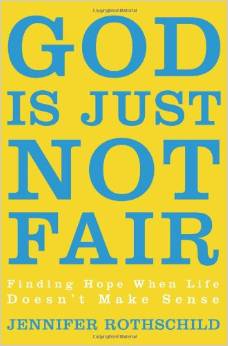 Jennifer Rothschild lost her sight over time, starting as a teenager. That is the basis of her story about finding hope and working through her doubts. In her new book God Is Just Not Fair: Finding Hope When Life Doesn't Make Sense she shares about a period of extreme depression and brings in stories from others who have suffered other trials such as illness, loss of a loved one, job or relationship disappointments.
I generally am not one to question God. I trust His sovereignty, and I know that I do not "deserve" an easy life, so this isn't necessarily a book I would have picked up. I don't think it's wrong to question, but I just usually don't. If you do, the author is very honest with her own times of questioning and working through them, and you'll find great encouragement by her example. She's not preachy, but she does preach it!
She uses her own examples of hardship as well as those of others, combined with stories from the Bible and truths from God's word to answer core questions:
God, Are you Fair?
God, Do you Err?
God, Do you Hear Prayer?
God, Do you Care?
God, Are you Aware?
God, Are you There?
The reason I decided to buy it is because I read two excerpts and they were both excellent, and so encouraging. I'm glad I did, because I learned more about God than I have in a long time.
God Is Just Not Fair is an incredible book, and I'm recommending it to everyone I know right now, especially those who are going through some sort of trial.
If this matters or gives my review more weight, I bought this book for myself, and I have bought 4 more copies since, if that tells you more about my true 5-Star thoughts. I hope you find me sincere no matter, but this amount of investment should show my passion.
Check out our current giveaways. Subscribe to our feed. Follow us @5M4B on Twitter or on Facebook.