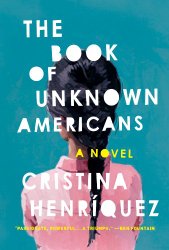 What does it mean to be American? From some perspectives, it's a much-coveted identity, even in the face of disdain from those who may not be so open to sharing the identity. If it is a trait, or a combination of traits, is one simply imbued with it by virtue of being born within the borders of the United States? In Cristina Henríquez's quiet and unassuming novel, The Book of Unknown Americans, the stories of several members of an immigrant community in Delaware explore the ideas of cultural identity, immigration and assimilation, and the ways in which an outsider status can often be extremely difficult to shed.
The Rivera family has arrived in Delaware to seek out an educational environment that will best serve their fifteen-year-old daughter Maribel, who suffered a traumatic brain injury in Mexico. Leaving behind everything they've ever known, they come to America hoping for the opportunity to help her recover. Their experiences trying to navigate this foreign environment may not be universal in the specifics for all immigrants, but the emotions are likely to be understood by many who have found themselves surrounded by the unfamiliar. Customs, language, food, weather– so many things about daily life are different and challenging to understand.
They find comfort in their new community, inhabited by many Spanish-speaking immigrants from Panama, Nicaragua, Puerto Rico, Venezuela, and Paraguay, and while their own native countries may not be the same, they understand each others' positions as immigrants in the U.S. Interspersed throughout the novel are short chapters in which minor characters from the community share their own personal narratives about where they came from and why they immigrated to this country. Often both beautiful and heartbreaking, these stories help to paint a broader picture of what might drive individuals toward becoming an American.
The Rivera family becomes especially close to the Toro family, and Maribel benefits greatly from her growing friendship with Mayor Toro, who is able to see beyond her disability to the person she still is despite her accident. In their young love can be seen glimpses of a more mature understanding of human connection. Love, guilt, and forgiveness are intertwined in the families' stories, with no shortage of joy or pain.
What struck me the most about this affecting novel was the depth of the character development, with the creation of many individuals from diverse backgrounds written in a way that brought them to life on the page. Henríquez writes with beauty and grace, being careful not to romanticize the immigrant experience nor to encourage pity for the characters. Regardless of readers' own backgrounds, there is much with which to relate, for familial and romantic love are universal.
Be sure to check out the website Henríquez has created, The Unknown Americans Project, in which people across the country share their own untold stories.