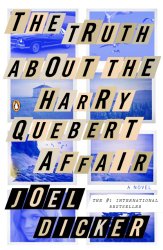 The Truth About the Harry Quebert Affair
comes with a heavy pedigree. It's a bestseller in France and had already been translated into 32 languages before it came to our shores. The back proclaims it to be a thriller in the tradition of "Girl with the Dragon Tattoo." So I was surprised, when I read it, to find an infectiously light-hearted, simply enjoyable read, full of twists and turns yes, and absolutely stinking with red herrings, but ultimately just a rollicking good story. All this to say–ignore the hype. Get this book. You'll love it.
The novel is a story within a story. Marcus Goldman is the author of one best-seller but has a bad case of writer's block. He's had to fire his secretary, his agent is breathing down his neck, and his publisher is threatening to sue. In desperation, he goes to visit his mentor Harry Quebert, author of the American classic The Origin of Evil and Marcus' English teacher in college. Harry lives in a gorgeous beach house near the small community of Somerset, Maine. Shortly afterwards, when Harry is having some hydrangeas planted in his garden, the workers unearth the bones of a 15 year old girl who went missing in 1975. Buried with her is the original copy of the manuscript of Harry's bestselling book.
Harry is immediately arrested, threatened with the death penalty, and denounced as a pervert. Marcus, however, is convinced that Harry didn't commit the murder, in spite of some evidence he's found in the house showing that Harry was in love with the girl, Nola Kerregan–damning when one considers that in 1975 he was 34 and she was 15. Marcus begins to investigate, and at some point along the way, decides to record it in writing. The result is, of course, The Truth About the Harry Quebert Affair.
The timeline moves back and forth between the current investigation in 2008, the lives of the residents of Somerset in 1975, and Marcus' own life. Along the way, it seems that the truth is becoming clear–only for further investigation to muddy the waters once again. Memorable characters include Tamara Quinn, shrewish owner of the local diner with designs on Harry as a son-in-law; Luther Caleb, a chauffeur who was so brutally beaten that he is left deformed but who maintains a sensitive artist's perception on life; and Nola herself, who was a sort of muse for those with whom she came in contact, but who proves to have had her own secrets and demons. There are some digs at the publishing industry, and glimpses of behind-the scenes marketing. It has meditations on love, the relationship between writing and life, and what makes a book a classic. It becomes apparent that Marcus owes Harry a great debt, because Harry taught him the discipline and focus necessary to becoming a writer. In the end, however, Marcus will have to make some hard decisions and become his own man in the process.
I have to say I didn't see the ending coming, but it was entirely satisfactory. I thought I had it figured out half-way through and I was a little disappointed, but then things twisted on their way and new things came to light, proving me to have been wrong. The Truth About the Harry Quebert Affair
is a great book because it's fun. It's hefty enough to last you through a plane ride or layover, or to keep you entertained in case you, for example, find yourself on a long car trip through the boring stretches of this vast country. I highly recommend it.