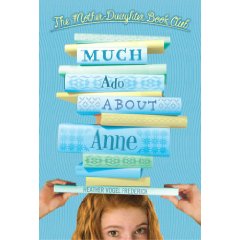 Much Ado About Anne is the second book in the Mother Daughter Book Club series by Heather Vogel Frederick. I never read the first book, but since hearing about it, I had always been curious about the series since I enjoy reading and discussing books with my daughter.
The novel introduces a group of twelve-year-old girls whose mothers coordinate a book club for them. The novel centers around the themes of the book that is chosen for that particular season — in this case the Anne of Green Gables series. If you are a fan of Anne, reading this book will be like chatting with good friends about something you all love. There are facts about L.M. Montgomery's life as well as quotes from the book, and comparisons to the plot details or characters throughout the novel.
Like most chapter books about girl groups, the girls in question are diverse (with the idea that all girls will find someone to relate to I think, and also subtly reinforcing the idea that girls can be and do everything). So in this novel we meet Cassie the jock, Emma the bookworm, Megan the fashion queen, Jess the brain, and Becca the Queen bee.
Reading from a woman's perspective, the moms are diverse too — an actress turned farmer and stay-at-home mom, a librarian, a busybody, an activist, a former model-turned-cooking show host.
I loved this book. I read it in less than two days (One reason that reading children's books is so satisfying. You can read about my sense of accomplishment over at Snapshot). It has an old-fashioned feel to it. Yes, the characters are modern girls, but the story reads like classic children's literature (or at least the kind of stuff I read when I was growing up): there are a few capers that of course get them into trouble — but not too much trouble; relevant subjects are tackled, such as popularity, stereotypes, financial problems, and one character's concern over the new man in her mom's life while she's still dealing with the death of her father.
Amanda (age 10) hasn't read it yet, but I think that she will enjoy it, and it might even encourage her to get to know Anne herself. I would say the target audience is probably girls aged 10 to 14, but if you have considered reading some children's literature just for you, I recommend this book to women of all ages (especially if you love Anne of Green Gables).
The first book in the series, The Mother-Daughter Book Club, focuses on the book Little Women. I can't wait to read that one next.
Managing Editor Jennifer Donovan is a contributing editor at 5 Minutes for Mom. She has been blogging at Snapshot for over two years.