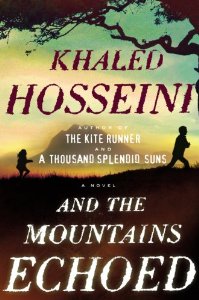 Last month I did a reread of The Kite Runner (linked to my review) in anticipation of the review copy of Khaled Hosseini's new novel And the Mountains Echoed  that I knew was on its way. I was pretty much wowed all over again, but let me tell you that if you are worried about his latest novel living up to his first or to A Thousand Splendid Suns — don't. I think that his latest novel is the best of the three. It combines the great plot of The Kite Runner with the emotional character development of A Thousand Splendid Suns.
The story opens in the fall of 1952 in Afghanistan with Baba telling his children Pari and Abdullah a story before a big trip. The reader isn't exactly sure what's happening or why, but the tension is clear. They visit the Wahdati's, the rich family for whom their Uncle Nabi works as a driver. In these chapters the foundation is set of this story of family, both immediate and extended.
And the Mountains Echoed is a complex story with a large cast of characters, covering about 50 years in time and spanning the globe from Afghanistan to Paris to Greece to California. I'll admit that it took some time for me to get used to the switches from character to character at first. But Hosseini is a masterful storyteller, and though I was saddened to leave one character behind when the story shifted, I quickly became engrossed in the life of the next character. Once the connections became apparent between the characters, I was racing through the pages, equally interested in the outcome of all of them.
My plot synopsis is lacking. Partly because it's just not about the story. It's about the characters and the beautiful writing. It's also the kind of story that I enjoyed not knowing anything at all about it, just letting it unfold as I read it. I invite you not to seek out plot descriptions and to do the same.
I've added this book to our 5-Star Reads. Highly, highly recommended.