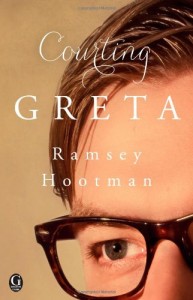 I was feeling in a bit of a reading slump when I received Courting Greta from the publisher for review. I wasn't sure what it was about, but when I was looking for something to read, I was drawn to the idea of an nontraditional romance.
Samuel is looking for a fresh start and the chance to make a difference when he leaves his tech job to become a high school teacher. His spina bifida which causes him to use crutches makes it hard for him to get around and gives the students even more that makes him a target of cruelty. He finds himself inexplicably drawn to the basketball coach Greta, a woman who dwarfs him in size, and is a decade older. In addition to that, everyone fears her, and no one even tries to break through her crusty shell. But she shows a few small kindnesses to Samuel, and so he decides to pursue her.
This is one of those books that I was glad I started when I had lots of time to devote to reading. I squeezed in as much time as I could, wanting to immerse myself in Samuel and Greta's story.
It was funny, touching, sweet, and quirky, a wholly original story that will stick with me for a long, long time. It would be a great vacation read.
I am so happy to be able to pass along a copy of Courting Greta to one of you (U.S. addresses only)! Just leave a comment if you'd like to win. We'll announce the winner in our July 24 giveaway column. The giveaway is closed.
The winners of our recent giveaways include:
Check out our current giveaways. Subscribe to our feed. Follow us @5M4B on Twitter or on Facebook.