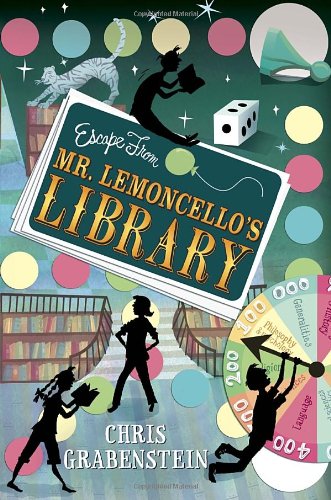 I loved Escape from Mr. Lemoncello's Library by Chris Grabenstein! I had received a review copy months and months ago, so I put it in my 3rd grade son's hands, and he loved it. He was begging me to read it, but I knew I wouldn't review it until closer to its publish date, and I had other books I had to get to, but it did keep calling to me. With the release coming up this week, I'm excited to finally review it, and also glad to be able to offer a giveaway.
The town library has been closed for many years, so this generation of children has been without. Mr. Lemoncello, a rich and famous maker of games, loved the library growing up, so he's donated a bunch of money and built the best library ever, full of high-tech devices (along with books, of course). He's holds an essay contest to select some 12-year-olds — those kids who have grown up without a town library — to stay the night in the library the night before it opens.
Kyle Keeley is one of those guys. He's a huge fan of Mr. Lemoncello's games, and he does what it takes to get an invitation. After a night of fun and hearing about the library's cool new features, the kids are given the opportunity to play in an all-night game to escape from the library, through a secret exit, not through the doors. The winner is promised fame and fortune and the chance to represent the Mr. Lemoncello game company in commercials.
The personalities of each of the kids comes through and play off of each other — the spoiled rich kid who thinks he deserves everything, the quiet bookworm, the good-hearted helper. They have to solve puzzles to get clues to help them find their way out. The puzzles are presented in such a way that the reader has a chance to think about an answer as well. Watch the trailer for some examples:
I love current middle grade fiction that feels timeless, and I put Escape from Mr. Lemoncello's Library in that category. There are references to books from current to classic, which I always love, because I think it can pique a child's interest in something new, but the kids seem to be living that timeless electronic-free life. Though there are references to cell phones and video games, they are peripheral to the story, and this book could just as easily been one that we read growing up.
Like I said, both my son and I loved this book, and I've even seen my 14-year-old daughter pick it up with interest. This would be a great family read.
Win it
Just leave a comment here if you'd like to win (U.S. only). Since the book is about fun (fictitious) games, if you'd like to leave a comment and tell what your favorite game growing up was, that would be fun!
We'll announce the winner in our July 10 giveaway column. The giveaway is closed.
Check out our current giveaways. Subscribe to our feed. Follow us @5M4B on Twitter or on Facebook.