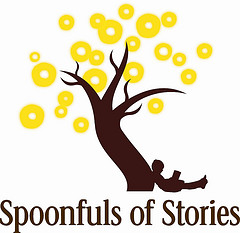 Every year around this time, Cheerios kick starts the summer with free books inside specially marked boxes with their Spoonfuls of Stories program. Since 2002, Cheerios has been helping to promote reading with small books tucked inside their boxes.
We collect them every year and have since the wee ones were truly wee. I love that the books are always in both English and Spanish, especially with Little Miss in a Spanish immersion class. It gave her something more to read and just a little extra pride in the language she was learning. Even going into third grade this year, she still picks up the books from years past and reads them again and again.
You can check out all the information on the Cheerios Spoonfuls of Stories program and find the books in specially marked boxes while supplies last. This year's books include:
The Lost (and Found) Balloon by Celeste Jenkins, which was the winner of the General Mills Spoonfuls of Stories 5th annual New Author Contest. In it, a little girl ties a letter to a balloon and sets it free. As the balloon journeys all over, Molly wonders who will answer her letter and has a wonderful surprise when she sees who finds her balloon.

Say What? by Angela DiTerlizzi is aimed at children ages 2-5. It's an interactive book of baby animal sounds that doesn't simply repeat the sounds each animal makes but asks the question, "What does each animal mean?" when they make their sound.
All the Water in the World by George Ella Lyon explores where the water in the world comes from – and where it goes.
Where Is Home, Little Pip? by Karma Wilson and Jane Chapman is the tale of a penguin always reminded by Mama and Papa to never wander far, but she does anyway. She tries to find her way home and encounters all sorts of friendly animals who know only their homes and not hers before she sings the song her parents taught her and they find her.
Dream Away by Julia Durango and Katie Belle Trupiano features a father and son who fall into a dream together. They meet familiar people on their fantastic journey about the possibilities of dreams and the universe.
For the first time this year, there will also be chapter books available for older children, as the books above are aimed at 2-5, 3-7, or 4-8 age ranges. 3 million of these will be in specially marked Honey Nut Cheerios boxes. The books are from "The Guardian of Childhood" series by William Joyce about the magical world of Toothiana.
And now, you can download activities to go along with each of the Spoonfuls of Stories books, including books from previous years, making it even more fun and entertaining for children to experience these special books. Plus, the author contest continues for the next book through July 31. Perhaps  yours will be the next book featured in Cheerios cereal boxes!
Written by Michelle who tries so hard to cull down her herd of books but can't give away her favorite friends. Fortunately, her children have developed her same love of reading. See what they're up to when they aren't reading via her blog Honest & Truly! or follow along with her on Twitter where she is also @HonestAndTruly.