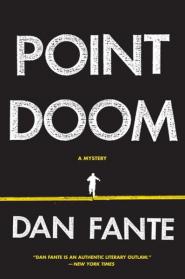 JD in Point Doom by Dane Fante is near rock bottom but trying to dig his way out. He's in his forties and living in his mother's house attending AA meetings after losing his high end car rental business due to his drinking. He's a former private investigator with rage issues, and when he's cut off by a rude driver who then throws a metal coffee mug at his (mom's) car, he follows the driver and both defaces her car and her in a restaurant.
Fortunately, a buddy of his gets him a job at a used car lot just as his mom has had it with the porn on his computer and him crashing at her house. The used car gig has its own issues with bullying bosses, but JD makes enough sales to afford an apartment once he receives his paycheck. In the interim, he borrows money from Woody, the buddy who got him the job and then quit as the dealership installed new rules. When JD goes to pay Woody back – or explain why he can't – he discovers that Woody has been gruesomely murdered.
Untrusting of cops, he does make the call but first does his own investigating and evidence removal. The cops don't trust him either, and he's clearly marked as a suspect. As he works to figure out what happened to his buddy – stubborn as a bulldog and never going to give up unless he's dead – he begins to discover a much larger plot, far deeper than he ever imagined.
I alternately loved this book and was repulsed by it. It is sick and twisted, much of which I can handle, but I prefer to handle it in the abstract without details. While the book focuses mostly on JD and his life – both the small minutia of attending AA meetings in Malibu and the larger pieces pertaining to the investigation – it also flips periodically to a man who was taught as a child by Nazis to torture others. This gives at least a bit of a heads up around the motivation and scope of the murders that wouldn't be there and would make JD's investigation otherwise less believable.
Content note: This book contains some very twisted themes with some details around torture and mutilation that are, frankly, disturbing. It is also filled with cursing, much of it gratuitous in my mind. This is a gritty book and not for everyone.
Written by Michelle who is grateful to not live in Malibu after reading Point Doom. See why she loves living in Chicago via her blog Honest & Truly! or follow along with her on Twitter where she is also @HonestAndTruly.