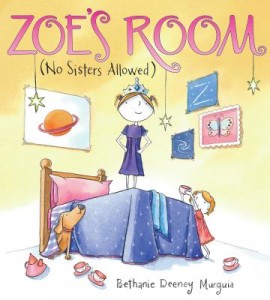 Zoe is a fun-loving, creative little girl who adores the magical world she can make in her bedroom. Addie is her little sister, who has been sleeping in her parents' bedroom… up until now. With her parents' announcement that Addie will be moving into her big sister's room, Zoe's world is being turned upside down. Bethanie Deeney Murguia's new picture book Zoe's Room (No Sisters Allowed) tells this story in a way that many big sisters and brothers can likely relate!
Please see my full review of Zoe's Room (No Sisters Allowed) over on 5 Minutes for Mom to get a sneak peek at the book as well as to enter the giveaway for a special prize pack!
(Comments are closed here so click over to enter.)The giveaway is closed.
Check out our current giveaways. Subscribe to our feed. Follow us @5M4B on Twitter or on Facebook.