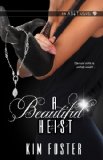 Cat Montgomery is blessed to know her own skill set, and to have a job that utilizes them. She's challenged at every turn, and she excels. The  only thing…her particular skills are theft and burglary. In short, Cat is a jewel thief, and a really really good one.
Cat's got her own set of ethics. She will only steal by assignment from her agency (AB&T), only something that's insured, and she won't steal if it means someone will go hungry. If she's got a job to steal a diamond necklace, for example, and she cracks the safe to find it full of dazzling jewels, she won't touch anything but the necklace. And she's always looking for the one job that will supply the sense of atonement she's looking for, a washing away of the guilt she feels over the death of her sister, which resulted indirectly from a job Cat didn't take.
A Beautiful Heist
starts off simply enough, and at first I was expecting a mere mindless read. But the plot thickens and Cat herself proves to be more nuanced than I expected. For a start, she maintains a good relationship with her parents and seeks their approval, although she doesn't always get it. She's torn between her ex, an FBI agent who knows what she does and obviously doesn't approve, and the new guy in her life, another thief who gets her and won't judge. She longs to do the right thing, even though for her that involves stealing–something society in general frowns upon.
On top of that, there's that one elusive job–one that adds a sort of Indiana Jones feel to the story. With the IRS breathing down her back, Cat is offered a chance to steal the Aurora Egg, a Faberge Egg filled with the Gifts of the Magi (yes those gifts, the gold, frankincense and myrrh offered by the Magi to the infant Jesus). She takes the job, but she's soon in over her head, as things prove to be way more complicated than expected. It's by no means certain that she'll even survive.
A Beautiful Heist
is a fun read–light, fast-paced, yet with enough character development to deepen the reader's enjoyment. It's got a good balance of action and suspense with real-life choices and implications. It's a great summer read–perfect for an hour or two of relaxation and escape. I really liked Cat, and I'd love to read her further adventures.
This review is part of the TLC book tour. To read more reviews on A Beautiful Heist
, click here.