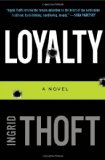 Fina Ludlow is the only girl in a family of ambulance-chasing lawyers, a firm founded by her father that's done very well for itself while living out certain negative stereotypes of lawyers. The family is immensely loyal to the family and the firm, and dysfunctional doesn't even come close to describing their particular dynamics. Fina will need to decide just where and when the boundaries for that loyalty should lie.
Fina is a private detective who occasionally works for the family firm, considered a borderline "black sheep" thanks to her decision to drop out of law school and pursue another profession. When her sister-in-law Melanie goes missing following a big fight with her husband outside their daughter's exclusive school, her father calls Fina in and gives her the case–with the provision that she not involve the police in the family business.
Fina has her own on-and-off relationship with the police, in particular one attractive young policeman. The police in general accuse her of stonewalling and withholding evidence, but she's just waiting for the right time. In a case that calls in all the unsavory characters of her past, Fina digs deeper and deeper. She stumbles across a prostitution business run by a very high-class madame en route, and wonders again how much her brother is involved. What she finds, and to whom she reveals it, will determine her family's future and possible her own.
Loyalty
is written in the classic 'tec noir style–where the detective is hardboiled, hard-livin' and hard-lovin'. Fina survives all sorts of attempts on her life and gives as good as she gets. She survives on junk food and very little sleep, and is adept at adopting different personas in order to gain information. She is a flawed character who nonetheless gets you on her side. (And I'd love to have her at my back were I ever jumped in a dark alley or something) Although her ideas of right and wrong may not fall exactly where conventional society would put them, she does care about what's right and does all in her power to bring justice. The book is written well for this genre, and includes many descriptions of clothes–you always can easily picture each character in each scene.
Loyalty
is author Ingrid Thoft's first novel. In order to create a believable PI character, she actually did a certificate program in private investigation at the University of Washington, a fact I find fun and impressive at the same time. I have a feeling this is the start of a new series, and I for one am willing to keep following the adventures of Fina Ludlow, her dysfunctional family, unsavory acquaintances, and vulnerable niece.