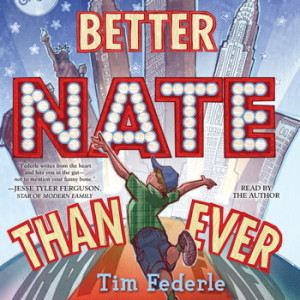 Better Nate Than Ever by Tim Federle has gotten nothing but great buzz. I had some reservations about the middle-grade novel (keep reading to find out what they were and how they shook out), but when I was offered an audiobook review copy from Simon & Schuster audio, I knew that was my chance to check it out, and I eagerly accepted.
I don't generally like to share the publisher's description, because it seems lazy, but also because it's not often a good depiction of the story, but when it hits it just right, like this one does, why make things harder on myself?

Nate Foster has big dreams. His whole life, he's wanted to star in a Broadway show. (Heck, he'd settle for seeing a Broadway show.) But how is Nate supposed to make his dreams come true when he's stuck in Jankburg, Pennsylvania, where no one (except his best pal Libby) appreciates a good show tune? With Libby's help, Nate plans a daring overnight escape to New York. There's an open casting call for E.T.: The Musical, and Nate knows this could be the difference between small-town blues and big-time stardom.
Tim Federle writes a warm and witty debut that's full of broken curfews, second chances, and the adventure of growing up—because sometimes you have to get four hundred miles from your backyard to finally feel at home.
Here's what the synopsis doesn't say. Nate is bullied. He's a slight, sensitive, musical-loving kid, which means the popular boys and jocks call him names like "fag" or "Natey the Lady." The story is told from his point of view and includes not only the events, but his internal dialogue as they happen. After being called a "faggot," this is his parenthetical observation:
(My sexuality, by the way, is off-topic and unrelated. I am undecided. I am a freshman at the College of Sexuality and I have undecided my major, and frankly don't want to declare anything other than "Hey jerks, I'm thirteen, leave me alone. Macaroni and cheese is still my favorite food — how would I know who I want to hook up with?")
It was this sensitive plot issue that led me to have reservations about the book. Was it the place of novels aimed at tweens and young teens to explore such a topic? I know some readers of this site will agree wholeheartedly that it IS the place of novels to explore these issues, right alongside other topics like parents' divorce or job loss or friendship issues. And I also know there are others who will have reservations like I did, and will either decide they want to read it or they want to avoid it. And that's just fine.
But for me, it's just another book about being a young adolescent who doesn't quite feel like he fits in. And isn't that really all of us? Our grades are either too good or not good enough. Girls are too thin or too fat or overdeveloped or underdeveloped. Boys are no good at sports, or stereotyped as jocks because they are good at sports.
This book was funny and warm and real, and that's why I loved it. I'd strongly recommend it for any tween or young adolescent who doesn't feel like he or she fits in (probably 5th grade and up) or for any kid interested in acting or musicals.
AUDIOBOOK NOTES:
Nate's voice is so warm and sweet and honest and true, and that kind of story always comes across well in an audiobook. This book is read by the author, which always insures that the right tone is conveyed, but is sometimes sub-par in acting ability. Being in the entertainment industry probably gives Tim Federle an edge, and he does an excellent job.
Read my review for the sequel Five, Six, Seven, Nate!

WIN IT:The giveaway is closed.
Check out our current giveaways. Subscribe to our feed. Follow us @5M4B on Twitter or on Facebook.