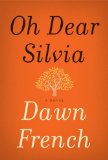 Silvia Shute has not been a perfect wife and mother by any means, but now that she's lying in a coma after a fall from a balcony, her family has rallied round nonetheless. In this intriguing novel by British comedian Dawn French, we learn about Silvia only through the eyes of those who knew her best.
Oh Dear Silvia
introduces each chapter with a day and time and then plunges us in as we listen to each person talk to her. We meet Ed, her ex-husband who was crushed by the way she got rid of him and nearly committed suicide as a result; Cassie, her daughter, also rejected and devastated but surprisingly strong; Winnie, her West-Indian nurse who is perhaps the only person who views Silvia in an uncomplicated way; Cat, her Irish doctor/lover, who reveals the truth about Silvia that she's tried to keep hidden from the world; Jo, Silvia's whacky sister, who comes up with the funniest, wildest ways to wake Silvia up, and finally, Tia, Silvia's housekeeper, who also reveals secrets and who is of the school that believes the ends justify the means. We also watch as these disparate bits of Silvia's life coalesce around her, as relationships develop between the characters or begin to die off.
It's rather a fascinating concept, and I think French manages to pull it off. The beginning is rather depressing, so I encourage you to keep on with it. During the first pages, I didn't like Silvia at all and was tempted to not finish it, but soon enough I could hardly put it down as I really wanted to learn more about the various characters. Although I don't agree with Silvia's conclusions about life and wouldn't specially want her as a friend, I really did come to care about her, and longed for her to wake up. And that's the big question–will she or won't she? And if she does, what will she make of all that's come out in her absence?
Oh Dear Silvia
is a poignant, funny, and tender book.